Why my pc is slow to startup? A common problem that windows user encounter is a long lasting windows startup. It's a proven fact that more the programs on computer, the slower it will be. This can be noticeable on pc equipped with 1go of ram and less. Windows 7 didn't really matured in this field and faces the same fate. A massive decline in performance and stability is resulted by activating more services, and background processes that results in massive startup items. A cure can be found by delaying the auto start of programs in Windows to avoid bottlenecks during the start of the system. Most users rely on msconfig or on services.msc. Messing with the Registry can mess up your machine, although you can always do a System Restore to an earlier time. A quick way to safeguard yourself is a wizard that can come in help and this can be found in Startup Delayer which is proposed in a free (Standard) and shareware (Professional) version.
Startup Delayer has a tabbed easy use interface and which gives access to 1)Startup Applications, 2)Running Tasks, 3)System Services. The theme and the language interface can be changed from the option menu.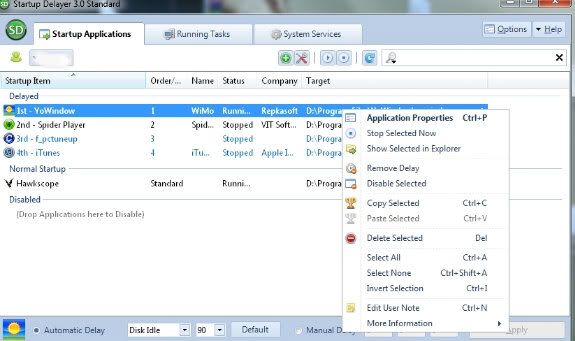 The startup Application window is where the user will decide which application to delay. To delay an item listed in the Normal Startup, simply click and drag-and-drop the item onto the Delayed group.  To add more services click on the PLUS icon and browse to their respective folders. For instance I did this action for YoWindow which is now in Delayed mode. In order to tweak more options regarding the delay we have to go to the Application Properties section by right clicking on YoWindow and selecting that option from the context menu.
So now in this window through the Launch Details we can choose when YoWindow to start and also by going to Advanced section we can decide at which day to start YoWindow and Priority. The Wait tab allows configure if startup delayer should wait for a specific event before the next application in order to be launched. The program can wait until the delayed startup program has terminated or until a user confirmation. This could be used to wait for a script to finish executing before launching any more Applications, even if your Computer is idle.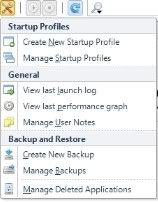 Startup Profiles can be created by accessing the Create New Startup Profile menu item in the Startup Profiles menu. Handy for creating various profiles such as for Adobe Photoshop or for intensive game as well online activities. This feature is only available in the premium shareware version.
Some Startup Delayer features :
Delay applications at Startup at a specific time
Automatically launches applications based on computer idleness
Quick Filter and built in filters to easily locate Applications
Delay local user applications without administrator rights
View Performance Graph of last Startup
Search info from Google or http://www.processlibrary.com/
Startup Profiles (Premium Version)
Launch applications on a schedule (Premium Version)
Convert running Tasks to Startup Applications (Premium Version)
1 license supports all your home computers (Premium Version) etc
Dependency is a relationship that connects two or more resources, the execution of a service can be chained to the performance of the other, or vice versa. Thus, it is not recommended to disable a service, but rather to put manual. Then by using the Performance Graph a user can easily switch those applications from manual to delayed status in order to get more power.
The performance of a poor machine inspire horror, as it can take over 30 seconds to start Windows Explorer even after the machine fully booted, but with Startup Delayer all of this can be the past. Download your free version from the below link and upgrade to the shareware for more important features especially if a pc is shared by multiple users.
Download : Startup Delayer