Blue Screen of Death (BSOD) is very frustrating and (unfortunately) a common issue in Windows. The main problem with BSOD is that you don't know which software/hardware caused the crash. You need to investigate a bit and have to spend sometime in order to fix BSOD without re-installing OS. Today we'll discuss how BSOD occurs and how to troubleshoot BSOD and fix it.
Usual causes of BSOD :
BSOD is normally caused by :
Hardware changes (When you add new hardware and if it is malfunctioning or not compatible then it may cause BSOD)
Bad and incompatible drivers
Incompatibility issues between softwares (especially with security related softwares like Antivirus, Firewalls etc)
Troubleshooting BSOD :
We can only solve a problem if we know the cause of it. Thanks to Windows, because whenever a BSOD occurs it will create a memory dump at C:\Windows\Minidump and with help of these memory dumps we can find the cause of BSOD. There are several useful freewares which can be used to analyze memory dumps. If you are facing BSOD on every normal boot, then you have to boot into Safe Mode in order to use these softwares. Memory dumps can be easily analyzed with help of the following freewares :
1. WhoCrashed :
WhoCrashed is user-friendly software and is free for home users. After installing WhoCrashed, launch it. Click on Analyze button to start analysis. After analysis is finished, scroll down to find the report. The report is easy to understand and it'll tell you which software has caused BSOD.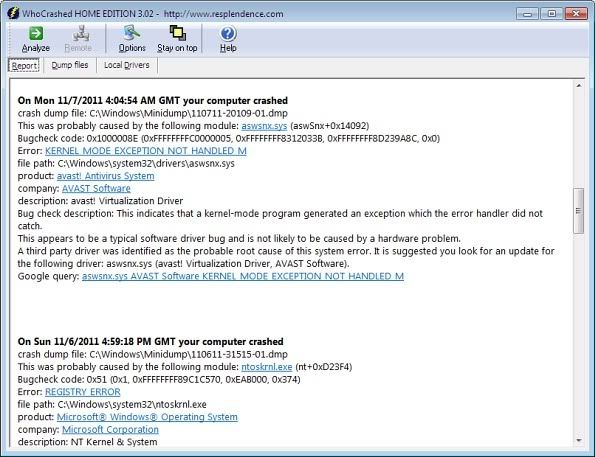 2. Blue ScreenView :
Blue Screen View, is also a very good software, but it is not so readable as WhoCrashed. It is portable software, all you need to do is, to run it, and it'll give you the BSOD analysis report.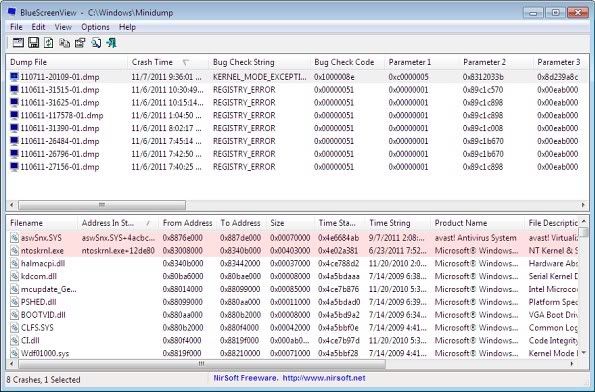 Interface is divided into two parts. The top one, will list all memory dumps and you need to select the memory dump. Bottom window will list the files found in that memory dump. Files that are marked in red are the reason for BSOD.
For newbies and moderately proficient computer users, these reports will be of great help. As you can see in above screenshots, the BSOD is caused by Avast when I was installing Online Armor. It looks like OA and Avast aren't compatible. Anyway, what I want to say is that these reports are easy to understand and will help you to point out the cause of BSOD.
Sometimes the generated report may not be helpful to newbies. Have a look at this report generated by WhoCrashed.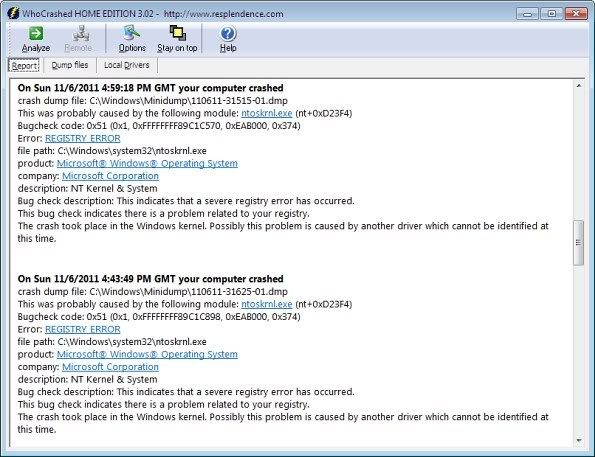 The above report won't tell you which software caused BSOD. Hence, it won't be of any help to newbies. So, how to find the cause of BSOD in these kind of situations? Let me, introduce you the method I follow to solve BSOD. This method is not a geeky one. It is just based on common sense and even novices will understand this easily.
My way of solving BSODs :
As I said earlier, there are many reasons for BSOD. If you are facing BSOD all of a sudden i.e. without change in hardware, then the reason will be software related. It may be due to newly installed software or due to security related software. In order to find the cause of BSOD, follow these steps :
Boot into Safe mode, if you are unable to boot via normal mode.
Click on Start button and then Run Msconfig. For, Win 7 and Vista enter Msconfig in search bar and hit enter.
Click on Startup tab and Disable all start up items.
Then click on Services tab and select Hide All Microsoft Services. Then Disable all services.
Then hit OK and then restart your system into normal mode.
What we did here is, we have disabled all external programs (including the one that is causing BSOD) from starting up automatically. This way, Windows will start normally, if core windows files aren't corrupted. Once, you've logged into normal mode, open run Msconfig again and enable each service one at a time and restart. This way, we'll know which software is causing the problem. Once we know the software that is causing BSOD, goto safe mode, remove it and then boot normally. This way, I've fixed my BSOD (Avira IS 2012 being the culprit) and I'm sure this method will work for you too.
Tip : Enabling one service at a time and restarting will be time taking. So, I would suggest you to enable all services, except security related softwares and frequently installed ones. If it's not for hardware changes, then most common reason will be security softwares (Antivirus and Firewalls) or frequently installed software.