Without any doubt we can say that malware attacks will damage various parts of windows and it will be difficult to find those damaged areas one by one and to fix them on our own is a dream to most of us. So, we need help in order to fix them. A simple tool without much complexity and better a portable tool will be handy in helping us during the repair. Tweaking.com's Windows Repair is aimed at this purposes and hosts some interesting fixing abilities to solve most common windows problems.
Windows Repair is portable and it will let you do the following :
Reset Registry Permissions
Reset File Permissions
Register System Files
Repair WMI
Repair Windows Firewall
Repair Internet Explorer
Repair MDAC and MS Jet
Repair Hosts File
Remove Policies Set By Infections
Repair Icons
Repair Winsock and DNS Cache
Remove Temp Files
Repair Proxy Settings
Unhide Non System Files
Repair Windows Updates
Using this program is very easy just click on the executable file and a small wizard will guide through several options as depicted below:
Check File System (Optional)
System File Check (Optional)
System Restore (Optional): Create or Restore
Start Repairs: Basic Mode,  Advanced Mode, Custom Mode
At the Start Repairs screen, you have to choose a mode. Depending on the mode of choice, the repair sections will vary, in order to have more flexibility the user can opt for Custom Mode and choose what to repair. By default, in this mode all sections are checked and it is possible to uncheck each item. There is also information tooltip for each section, hovering the mouse on each section will show a small information telling you what will be repaired during each action and hence there will be no room for errors. A user can also check the box which says Restart System When Finished located at the bottom right corner of the interface, in fact if it is needed to complete the repair then the software will prompt to restart the system after that maintenance is finished.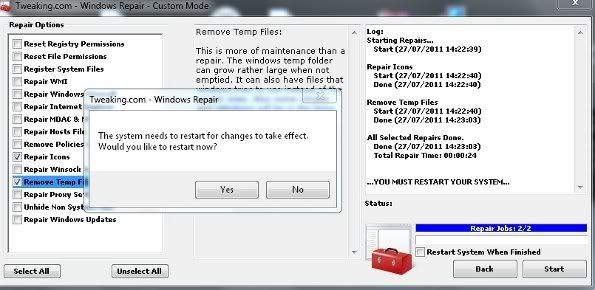 It is apparent that this Windows Repair software is a collection of individual tools. These individual tools are available from tweaking.com website which are dedicated to repair a single problem. These individual tools comes handy if the user knows the exact problem.
Another interesting tool from Tweaking.com is the System Information tool. It is also portable and it provides a detailed report on Windows hardware and software that currently are a part of the user PC configuration. As of now, the report can only be saved as txt. System Information tool gives more flexibility to the user. He can decide which part of hardware information he wants etc. It also lists out the current installed software, list of Startup Items and can also define the information detail level in different ways such as:
Basic,
Moderate,
Advanced.
Having these portable tools are important since they can find a place on USB key, so that we can help others in fixing Windows errors. So, head over to the below link and download both software.
Download : www.tweaking.com