Watching a movie in theatre or at home, on a big screen or on a normal computer screen is one of those moments that we would like to get most out of them. For some people, watching movies is a way to relax and for some others it is more like a daily job because they love movies so much. And with the advent of 3D movies the movie experience has reached a new level. 3D movies are lively and actually it is like you are inside the film with all those characters acting around you. Unfortunately, we don't have large number of 3D movies as compared to normal 2D movies. But we are Lucky enough to have softwares like 3D Video Player. Now we can watch every movie on 3D level, and yes even on PC screen.
When you are planning to watch (any) video, forget about all 2D limitations and set to the 3D world. 3D Video Player is a shareware and it turns any video into 3D. As the author say:
Discover the world of fascinating 3D Technology Now! With powerful 3D Media Player you can watch any format video in HQ 3D on the fly. Just activate the 3D button on the interface and enjoy!
3D Video Player is an extra ordinary player. It can play many popular video formats. You can use it as a normal movie player. But, it will unleash its powerful 3D video rendering ability if you click on the 3D button. When you click on 3D button, 3D Video Player switches the mode of the video from normal 2-dimensional to anaglyph 3-dimensional on-the-fly. So, now you can watch your normal videos in anaglyph 3D mode for super 3D experience.
In order to watch a normal video in 3D mode, just click on the OPEN button in the media player to choose your regular movie file. The buffering circle shows that the video is being processed now by 3D Video Player for further possible playback in anaglyph 3D mode. After that put on your anaglyph red-cyan 3D glasses, click on 3D button in the bottom of the player and enjoy the movie in 3D version. If you watch the anaglyph 3D mode with your naked eye, all you'll have is an unpleasant video experience. Don't watch 3D anaglyph video with naked eye, use red-cyan 3D glasses instead. If you don't have those 3D glasses you can buy one or else you can create your own 3D glasses at your home! If you prefer to watch with naked eye, then just turn off the 3D mode and now 3D Video Player turns into normal movie player.
It is a simple player without advanced settings and too many options. 3D Video Player supports all popular formats. It can be set to be the default video player for all video files. You can do it by following the usual method of right clicking on any video file on your PC, "Open with.." and "Choose program.." with 3D Video Player and ticking it as default for all video files. Now all video files will open in 3D Video Player as the default player
As you will notice the screenshot of 3D Video Player looks better even in normal mode when compared to the same episode's screenshot of VLC Player.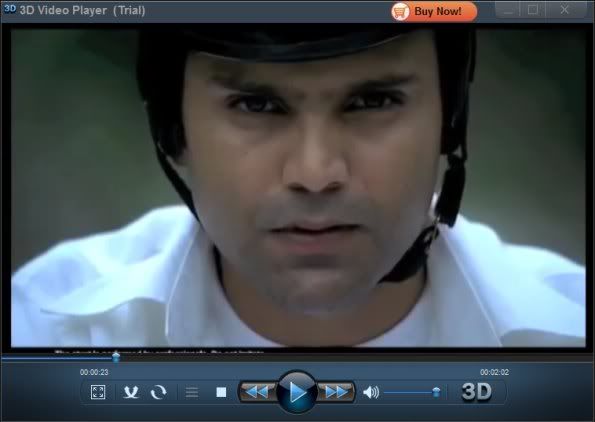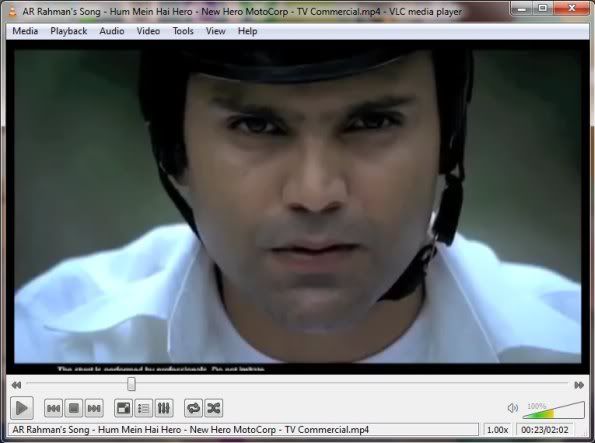 The reason is because 3D Video Player makes the best use of your graphic cards and hence even the normal movies looks  much better. Not only the video, the audio output is also great with perfect bass effect. Please make a note of the system requirements for 3D playback .
Windows XP, Vista, 7 – x32 or x64
Intel® Core™2 Duo or AMD Athlon™ X2 CPU or higher
1GB of system memory (2GB is recommended)
100 MB free disk space
Dedicated Graphics Processing Unit (e.g. NVIDIA® GeForce® GPUs)
Any LCD or CRT display
and of course Anaglyph (red/cyan) glasses!
By now you must have understood that 3D Video Player is not like any other video player. It  can turn literally any video into 3D if you want and normal movies look much better with 3D Video Player. Even if you have created a video with your camcorder, watch them in 3D and bring those moments back to life.
Download : 3D Video Player (7-day Trial)
Giveaway :
A Big Thanks to the developers of 3D Video Player for giving us 5 licenses to giveaway to our readers. In order to win 3D Video Player then,
Try 3D Video Player and give us your feedback through comments. Winners selection is solely based on the quality of feedback.
Like developers' Facebook Page (www.facebook.com/3DMediaRevolution ) And Follow them on Twitter (www.twitter.com/3DRevolutionNow). If you are already a fan and follower, then skip this step.
5 Best feedbacks will win 3D Video Player. We are not using Random.org for this giveaway!
P.S : Winners will be announced on 13th September.
Discount (Get 20% Off):
Thanks to the developers once again for giving us a special 20% discount offer! Use the following link and coupon code to get 20% discount.
Click here to buy 3D Video Player.
Use this coupon code : RAMK-TND0-TECH to avail 20% discount. This is code is valid till 2nd September, 2012.