Microsoft Word is a very simple software for creating documents. But it is not a good software for writing HTML documents and web pages, because it adds plenty of garbage markup (unnecessary and proprietary tags and attributes) to your HTML, so that the resulted HTML files becomes very bloated, full of unnecessary line breaks, different link colors and sometimes even incompatible with browsers other than MS Internet Explorer. While some will consider softwares like paid Dreamweaver to convert MS Word Docs to HTML, others would like less expensive and more light-weight software.

DocToHTML (For MS Word 2007 and higher, this button placed on separate "DocToHTML" ribbon tab) is easy to installed and through well dedicated graphical interface the conversion is controlled to match the desired result in quick way. This software is able to convert any format which MS Word can open (DOC, DOCX, RTF, TXT, etc.), to clean and compact web HTML or XHTML, while conserving most of the font and paragraph formatting attributes. DocToHTML also has several built-in conversion templates which allows you to quickly select the necessary type of conversion project.
Converting Word Document to HTML is simple. Open a Word Document and click on Save As Clean (X)HTML, a new window will appear, and you will notice that the left column contains only one Option (General) and if you would like all the capacities click on Show Tabs located below. Choose the output format (HTML 4.0.1 or XHTML 1.0), select the appropriate image format (GIF, JPEG, or PNG), add or edit Meta Tags, include your own CSS files and HTML code fragments templates. If you selected "Open the resulted document in the default browser" checkbox, DocToHTML will open the final output in the Default browser, but through the Advanced option user can make a batch file to open it in different browser. This should be carried with Execute Command After End Of Conversion!. This Advanced tab has also some interesting features that you will easily get benefit from it and make an HTML optimized for certain web browsers (Explorer, FireFox, Opera).
The resulted size of (X)HTML and CSS files are in the order of several times smaller than those produced by MS Word itself. This means that they are several times faster to load, thus leading to better user experience for visitors of your website, and to saving of your bandwidth. Also this means that you can edit the resulted (X)HTML code with ease because it does not contain any redundancy. DocToHTML conversion options dialog also has a special section named CSS from which you are able to add your styles to make unique pages with defined color, typography, elements of a document, positioning, etc.. You can selectively discard any formatting elements through appropriate Tabs (Font attr, Paragraph Attr, List attr, etc.), leaving only those that is relevant to you at the moment. All this will help you to republish a Word document as a web page, with given formatting.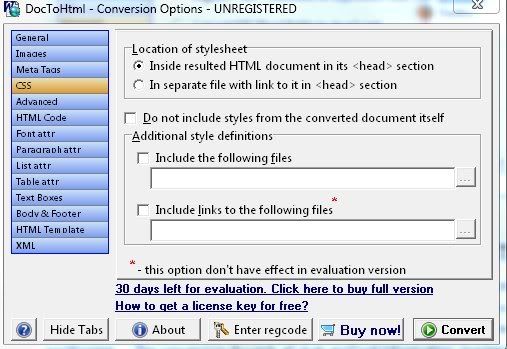 The output from the converter is in HTML (or XHTML) format. The following elements of the document are preserved : Text, Paragraphs, Headings (with heading levels), Lists (ordered and unordered lists, and nested lists), Hyperlinks, Tables, Frames, in short, almost all.
Another convenient feature is ability to convert (and place result to the clipboard) only selected text from within MS Word – in just one click! If editing of selection conversion results is needed, DocToHTML has a handy Edit (X)HTML features as shown below.
DocToHTML Features :
Microsoft Toolbar Tabbed  Integration
Batch Processing
Integration to windows Explorer Right Click Context Menu
MS Word 2000 or later (XP, 2003, 2007, 2010) (32-bit only),
Very compact and clean (X)HTML code from any Word document
Built-in (X)HTML editor and browser – make changes and view results instantly!
Hierarchical (X)HTML indentation/wrapping mode to ease editing
W3C standards-compliant resulted (X)HTML code
You can include your own CSS
You can insert your own (X)HTML templates
Easy-to-use stand-alone GUI batch converter
Command line support to completely automate the process
File masks support to process only needed documents
Convenient and powerful system of conversion templates
With DocToHTML quality is assured during conversion Document to HTML and XHTML with lesser time even with big projects in batch mode.
Many people know how to use MS Word, but they don't know how to write HTML documents. With DocToHTML you need not learn HTML, with MS Word only you can create wonderful pages. So, try DocToHTML for a 30 days trial period and feel free to upgrade according to your need.
Download : DocToHtml
Giveaway :
A Big Thanks to the developers of DocToHtml for giving us 10 licenses to giveaway to our readers. If you are interested to win DocToHtml then,
Leave a comment below mentioning for what purpose (education or office etc) you'll use DocToHtml software.
Winners will be announced on 9th September.
Discount Code (Get 50% off) :

Thanks to the developer once again for giving us a special 50% discount offer! So, if you want to buy licenses for personal or business purpose you can click on the corresponding link and then use the following coupon code to avail 50% discount.
Link :  Click here for discount on Personal License || Click here for discount on Business License 

Coupon Code : Tech I Share