Advanced SystemCare is a popular system optimization software. Advanced SystemCare comes in two versions, Free and Pro, and last month we've discussed about the new Advanced SystemCare 5 free version. As a part of our Christmas Celebrations we are giving away few licenses of Advanced SystemCare Pro 5 for free. So, before announcing the giveaway let us see more about Advanced SystemCare Pro.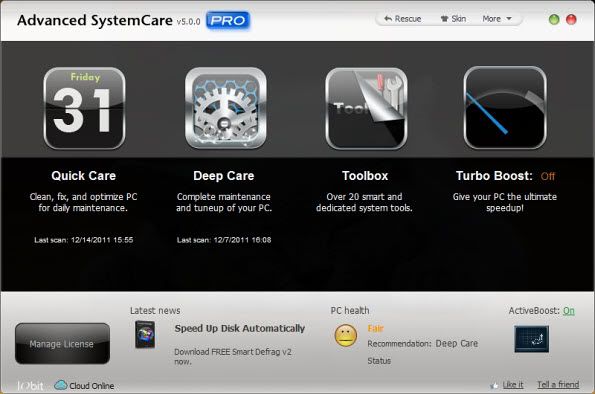 Advanced SystemCare Pro features some powerful tools that aren't available in the free version and here is the list of exclusive features of Pro version :
AutoCare :
AutoCare is the "Set it, and Forget it" feature of ASC. AutoCare will automatically clean junk files, repairs registry and shortcuts, sweeps privacy (like browser history, cookies, cache etc) and removes malware. You can set AutoCare to run  either at scheduled time or whenever the computer is idle.
Advanced Disk Defragmentation :
Usually, it takes lots of time to defragment disks. But, Advanced SystemCare Pro uses its intelligent patented technology to defragment disks based on the modification date of the files. The files that are not used frequently will be placed in such a way that even in future there won't be any need to move them while defragmenting and hence the defragmentation will finish quickly.
System Optimization :
Advanced SystemCare Pro comes with different kind of tweaks for different users. Depending on your proficiency and kind of work, you can choose the desired profile.
It'll also tweak Windows to suite your network.
Other features of Advanced SystemCare Pro are as follows :
Advanced malware removal
Deep registry clean
Change skins permanently
Automatic updates
Comparison between Advanced SystemCare Free and Pro versions are depicted in the picture below :
Advanced SystemCare Pro 5, offers one stop solution to all your performance problems and malware issues. With features like AutoCare you don't have to worry about cleaning your PC. Just Set it, and forget it!
Giveaway :
Thanks to Jessie, of IObit, for generously giving us 10 license keys of Advanced System Care Pro (with 1 year free updates). So, if you are interested in grabbing a free license of ASC 5 Pro, then do the following :
Do anyone of the following (which ever is convenient to you) :
Leave a comment below. If possible, tell us about the feature which you like/dislike the most in ASC (Free/Pro). Please use a valid Email ID while commenting.
Winners will be drawn randomly using Random.org and the announcement will be made here itself on 23rd December. All the best!

Winners :
Congratulations to the following winners :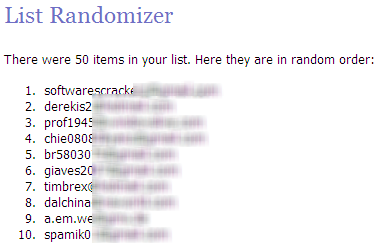 Congratulations winners. Advanced SystemCare Pro v5 license keys will be emailed to you shortly.