Winners of Secure My Files :
Sorry for the delay in announcing the Winners of Secure My Files 3. Here is the list of winners (selected by Random.org) who won Secure My Files 3 :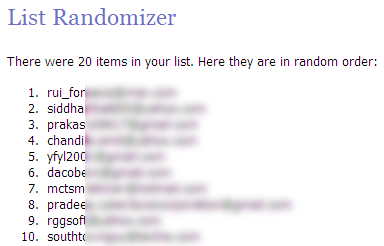 Secusimple, the developers of Secure My Files will contact you via email. Congratulations to you guys and others don't worry. We still have 70% discount promotion running, so if you want to buy Secure My Files, then use the link below to buy Secure My Files for just $2.99.
Secure My Files 70% off discount code.
Glary Utilities Lifetime License Winner :
Thank you guys. Your feedback and valuable suggestions are awesome. Each and every suggestion is accepted and I'll add those features to Tech I Share soon :). I need to mention few names here, who gave much needed suggestions :
– Thanks for pointing out your problem (it is not just your problem, it is the problem of everyone whose native language isn't English). That translation problem is rectified then and there itself and I hope you are now happy to read our articles in English rather than reading those difficult-to-understand translated pages.
– Thanks for that calendar suggestion. Till now we published around 380+ articles and I think we didn't give you guys an easy way to browse through articles. Sorry for that. By taking inspiration from RGGSOFT's idea, we'll improve site navigation, so that you can browse through articles very easily. Thanks for the suggestion RGGSOFT 🙂
– Thanks for taking so much time in giving feedback Pradeep. With so many giveaways happening around, it's tough for a user to track them all. Having one directory for all those giveaways is a great way to keep track of giveaways. We'll talk with other bloggers and friends and will try to make a one stop place for all giveaways. Thanks for other suggestions too 😀
Picking the best feedback is the toughest thing I ever faced till now. Because each and every feedback is unique and important in its own way. But, at the same time we only have 1 license to giveaway :(. So, I am bound to pick only one winner, even though I want to reward each and everyone of you for giving wonderful feedback. So, as a formality I am picking Pradeep Singha as the winner of Glary Utilities Lifetime license.
Thanks a lot to one and all who gave us feedback. Last but not the least, our special thanks goes to Bala aka Avibky, without whom this giveaway wouldn't be possible.