Losing data accidentally and then recovering them is a part of our computing lives. We have tools to recover lost data from our local hard drive, but what if you lost your website! We don't have any ready-made website recovery tools, in fact we don't have full access to the hard drive on which our website is hosted. So, once gone is gone forever! Hence, every webmaster knows how important it is to backup the website.
There are many free and for-fee online backup services for websites, but having a personal backup option is recommended, twice is better than one. That's where softwares like BackupSF comes into the picture. BackupSF is a software that guides user through wizard to backup website. It not just backs up the files, but it'll also backup your MySQL database (if you are using it). So, that's a complete backup. Also, you can either backup to local hard drive or even to cloud (like Dropbox, SugarSync etc) if valid accounts are available.
Using BackupSF :
BackupSF installation is easy & the interface is clear and well guided. To start the backup wizard click on Add Project.
Then a window will pop-up asking you to enter Project name and your website URL. Fill in those details and hit Next to proceed to Step 2.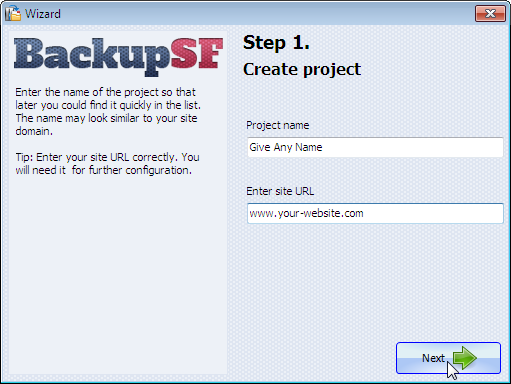 In Step 2, it'll ask you to provide FTP details. So, provide them. By default, BackupSF will connect to your webserver in passive mode to avoid firewall issues, if you face any problems then untick the passive mode. After providing necessary details hit Next.
Once it gets connected, it'll move to Step 3, where you have to select desired folders on your server so as to download them to your local PC. To do this, click on '…' button on right.
It'll then contact the server and will produce the folder structure to you. Now, select the desired folders and click OK.
Folders which you've selected will be shown to you. One drawback here is that, once a folder is added to the list, it can't be deleted. Hope, the developers will add the ability to edit final list in future versions. Anyway, so once the desired folders are added, hit Next. Also, if you don't want to backup files then you can tick "skip FTP backup" and proceed to MySQL backup phase.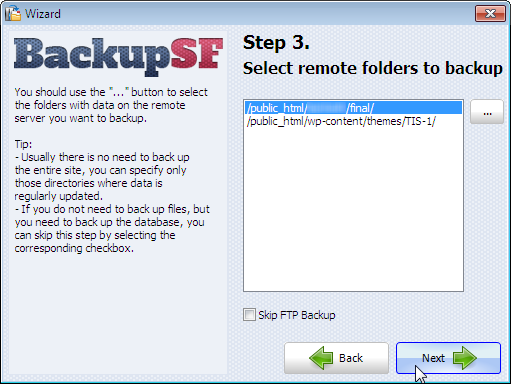 In this step you have to provide the details of your MySQL database. So, provide the details and hit Next.
As in FTP backup, you can avoid MySQL backup by ticking 'skip Site backup'. You can also add multiple databases here so as to backup all of them at once.
In the next step, you have to upload scripts so as to backup your MySQL database. More instructions about scripts can be found in the left pane. So, proceed accordingly.
After uploading scripts, hit Next. In the next step, select the databases you've added and hit Next.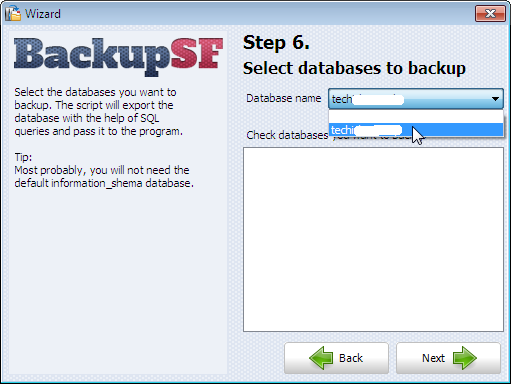 Then in the final step, you have to configure the backup scheduler and hit Finish.
That's it. From now on, BackupSF will run silently in the background and will backup your website regularly.
Conclusion :
Now-a-days many webhosts are providing backup options. If you are on such host then it's well and good. If not, then BackupSF is for you. It is a great tool for webmasters. Its simple GUI makes complex things easy. Doing backup personally is more secure and you can even face the worst webhost catastrophe. Just upload the backed up files and database back to your server and you're back in business!
Download : BackupSF
Giveaway :
A big thanks to the developers of BackupSF for giving 15 BackupSF Pro version licenses to our readers for free. With Pro version we can backup upto 25 FTP & MySQL databases. So, if you are interested in grabbing full version license key, then do the following :
Do anyone of the following (which ever is convenient to you) :
Leave a comment below
Winners will be declared on April 13th.
Winners :
All the participants will receive the license key as the number of participants are less than the number of available licenses.
Others who missed this giveaway can avail 30% discount by using the below coupon code, on all versions of BackupSF.
Discount Code : BACKUPSF30OFF
You can buy BackupSF from their official store.