Adding watermarks as text or logo to photo is handy on several situations such us to protect photos by copyright to identify them as your own work, to help elderly people or audience to follow slideshows by learning more, to make photos more attractive similar to satisfaction etc. Adobe Photoshop can do this but wait the price! Fortunately there are less expensive, yet capable shareware can help and Batch Photo Watermarker is one of them. It is very easy to put text to your picture and with Batch Photo Watermarker, users could design the text effect at their will to make them unique.
The software can be installed easily, no worry about this, you will notice that the interface is well categorized with 5 sections. The top toolbar for adding photos, below the left section for Watermark,  the middle Main working area and the right section for Configuring templates and saving option, finally the bottom section opposite the top toolbar for  Previewing images.
Batch Photo Watermarker supports the following input formats :
JPEG, TIFF, BMP, PNG, GIF, PSD, GFI, SGI, TRUEVISION, PAINTBRUSH, KODAC, SGIW, PSP, JPEG2000, BW, FAX, RGB, RGBA, SGI, TGA, VST, ICB, VDA, WIN, PCX, PCC, PCD, RLA, RPF.
If you would like to import ony some specific image format go to Options and check or uncheck the boxes.
Photos are loaded quickly and you can scroll through the photos with keyboard arrows. In order to Add Copyright text first you have to enable the checkbox located on the left side under Watermark Option, watermark with the (c), R or TM characters all your photos. The "Text Options & Effects" button opens the dialog box with the text watermark settings (size and other settings).

On left side of the interface, under Watermark Options, you will notice that you can Watermark or Stamp Photos with several ways :
Add Copyright with the (c), R or TM character all your photos: Choose Font, Relative Position, Background Box.  This can be done from Text Options & Effects.
Add Watermark Text: Choose Font, Relative Position, Background Box. Defines the effect of the watermark text you want to use. The usage of it is very straightforward from Text Options & Effects.
Add Logo/Image: The software proposes some logo/image but you have the liberty to add yours. The symbolized image can be designed at your will to make your photos special. The logo can be moved around until you find the right position.
Add date/time: The date is automatically retrieved from the EXIF data of the file, but you can always specify a particular date. Choose Font, Relative Position, Background Box.
Add Lines: Add diagonal lines in order to provide maximum protection for your photos against illegal use.
Tip : If you need to use some special character, then use the Character Map from Windows. Just go to start menu and type Character Map, then launch it. Click on a character so that it's highlighted and click on Select, then click on Copy then paste in the text zone.
You can also save the Watermark as template so as to use to watermark quickly in future. For this to accomplish, from the right side of the interface, below Watermark Templates click on New and give a Name (like My First Template) and click on OK, this will add new entry My First Template in the Template drop down menu together with the defaults template that comes with the software.
After adding the necessary effects, you can save the images as TIFF, JPEG, BMP, PNG and GIF file formats with your defined quality, just use Image Quality slider to change quality.
Once you've decided on the watermark, image format and output directory then click on save, Stamping progress bar will be shown allowing you to estimate the remaining time of the job.
Watermarking can be made simple or complex, as you wish, with Batch Photo Watermarker. You can add text or logo to your photos in seconds in batch mode! You can choose different watermarking labels for different situations depending on the information that you would like to add.
Download : Batch Photo Watermarker
Giveaway :
A big thanks to the developers of Batch Photo Watermarker for sponsoring 15 licenses, to giveaway to our readers. If you are interested to grab this powerful batch photo watermarking software, then do the following :
Do anyone of the following (which ever is convenient to you) :
Tell us why you want Batch Photo Watermarker. Please use a valid Email ID while commenting.
Winners will be selected randomly and will be declared here itself on 23rd January. All the best!
Discount :
Thanks again to the developers of Batch Photo Watermarker, for giving us 20% discount code. Anybody can avail 20% discount on Batch Photo Watermarker when they use the following coupon code :
BPWREVIEW20
Link (To buy Batch Photo Watermarker) : http://www.shareit.com/product.html?productid=300487341

Winners :
Congratulations to the following winners :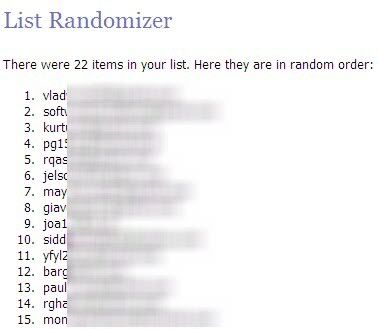 Winners will receive their licenses shortly.