Many Windows users play games, online and offline. For some it is a hobby and for some it is passion. Recording best action of the game can be a great moment to watch it all over again (Who knows maybe you will never succeed to do it again). Having a video or screenshot of your gameplay will let you learn from your mistakes, plus you can show off your best shot to your friends and to people all around.
PlayClaw is screen recording/capture software for DirectX and OpenGL games. It is light on resources and barely uses any CPU power while playing games so there is no lag observed while recording. As you can see PlayClaw offers overlay features for Ventrilo or Teamspeak.  So, if you are into a multiplayer online game then PlayClaw will not let you in the dark alone.
Installation of the software is easy, no toolbars nothing, hassle-free installation. After installation, launch the recording software and it lets the user modify settings of Playclaw. They are: selection of hotkeys to capture, start-stop of the video, codec format and FPS video file format etc.
While in-game, you can use your preferred hotkey to call PlayClaw window to customize following settings:
Common: Basic configuration such as Language, Star with Windows…
Screenshot:  Hotkey, File Format (PNG, JPG), Screenshot Indication (Frame, Text), Indication Color.
Videos:

Hotkey Configuration (Star, Stop, Delete), Capture Cursor, Smooth Frame Rate.
Resize Frame: Do not change, 1920×1080, 1681×1050, 1600×900, 1280×800, 1366×768, 1280×720, 1152×720, 1024×576, 960×540, 854×480, 640×360.
Encoder: MJPEG, Low Compression, No compression.
MJPEG Quality: RGB→YUV Compression
Video File FPS: 1, 5…30…150, 200.
Compression Thread: 1, 2, 3, 4, 5, 6, 7, 8.
Enable/Disable Prerecord, Max Prerecord Buffer Size: 10 Sec by default or 5…120Sec.

Audio:

Enable Source 0. Enable Source 1
Capture only when Hotkey is pressed.
Transform to stereo, Mix Source in One Track. Write All Audio Tracks to Separate WAV file.

Overlays:

Enable Overlays Hotkey
Available Overlays: FPS, VOICE, TIMERS, CODEC Stats, GPU INFO, CPU INFO.
Set Appearance (Font Family, Font Size), Draw Shadow, Draw back with color.
Settings: Common FPS Color, Recording Enabled.
Enable FPS Overlay, Enable AVI Overlay(Show recording time, Show pre-recorded time…), Enable Teamspeak/Ventrilo Overlay (Show your channel that you are in, Show the person talking), Enable GPU Overlay (Show Temperature, Usage of graphic card), Enable CPU Overlay (Show Temperature, Usage of CPU), Overlay Font (shadow and color for any overlay), Overlay Position (Simply Drag And Drop Overlay Position)
With PlayClaw's Pre-Recording feature, gamers will never miss that moment of success. Playclaw begins to capture video & audio as soon as the hotkey is pressed and then saves those captures to free process memory. Now, when the user starts to record, PlayClaw will drop all those captured frames from memory to the Hard Drive. Hence, you will not miss the best moment because when all those frames are combined it will become an actual video file. One important thing to notice here is that the duration of recording will greatly depend on your RAM, because pre-record feature will directly write captured frames into the memory. Hence, more memory you have, more can be recorded.
The main advantage of PlayClaw is its ability to effectively utilize multi-core CPUs, thus in-game FPS isn't reduced. Multithreading is the core of capture engine and hence overall codec performance is increased with the increase in usage of number of CPU cores for encoding. No skipped frames were observed with 2-3 or more cores. Also, the size of the captured file depends on the FPS rate at which you record. The more Frames Per-Second you record, the larger the file size will be. Also, notice  that recording audio will increase the file size. So, uncheck this option, unless you want the sound from within the game.
Game recording softwares are very useful. With game recording you can show off your gaming skills, your PC's sheer power or you can even create gameplay tutorials for your friends. PlayClaw is excellent, as it lets you record games without affecting gameplay. PlayClaw (Windows XP, Vista & 7) supports both 32-bit & 64-bit games and you can easily set it up with PlayClaw Tutorials. Full version is available for $29,95 and an evaluation version can be downloaded from the link below :
Download : PlayClaw
Giveaway :
A big thanks to the developers of PlayClaw for giving 10 full version licenses to our readers for free. So, if you are interested in grabbing full version license key, then do the following :
Do anyone of the following (which ever is convenient to you) :
Leave a comment below
Winners will be declared on March 27th.
Winners :
Congratulations to the following winners :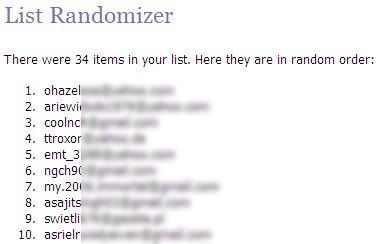 Winners will receive an email from us shortly.