Photos play an important part in our lives and many of us take photographs of special occasions like Wedding, 1st birthday, Holiday trip etc so that in future we can cherish those wonderful moments again and again. Slideshows add more beauty to the already beautiful photos and slideshows made by Wondershare DVD Slideshow builder are even more impressive.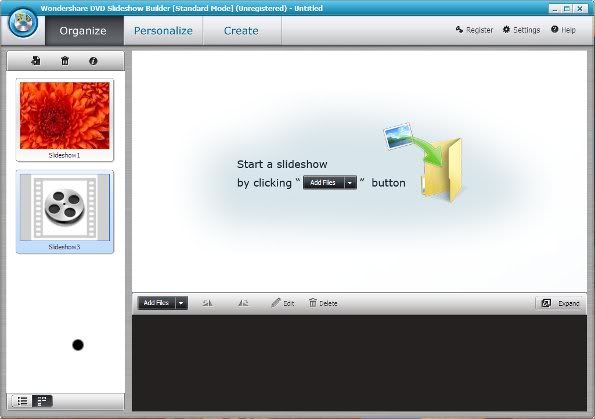 Wondershare DVD Slideshow builder standard edition is a feature-rich and easy-to-use slideshow maker. Even novices can make stunning slideshows using this software within no time. Creating a slideshow is divided into 3 simple steps :
Organize
Personalize
Create
Organize :
In this step, you will add photos or import previous slideshow project, organize the sequence of photos, edit the photos, add captions and make the photos ready for the next step, where you'll add special effects and transitions. In order to move to the next step, just click Personalize tab.
Personalize :
This is where the actual power of slideshow builder is revealed. You can choose from 210+ styles and apply those transitions to your photos. You can add cliparts to each photo, apply more than 40 special effects to the slideshow. You can insert local audio file as background music to the slideshow etc. After customizing the slideshow, head over to the next step by clicking Create tab.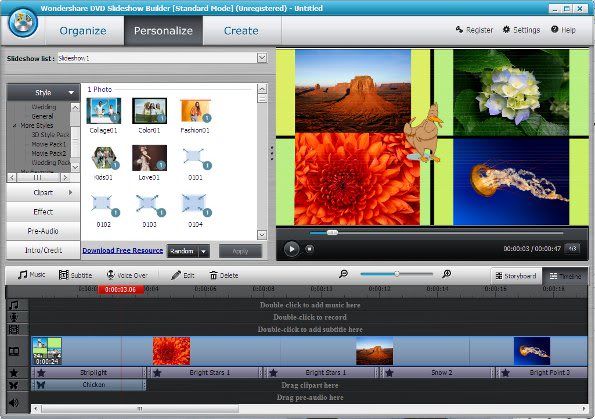 Create :
Don't get mislead by looking at the name of the software. Wondershare DVD Slideshow builder not only burns slideshows to DVD but it also saves the slideshow as video (from many available formats) or else you can upload to the YouTube account directly from the software itself.
Wondershare DVD Slideshow builder is the best at what it does. It gives the users to customize the slideshow as they want with vastly available effects and transitions within software. If you think those effects are not sufficient, then head over to Free Resource Download page, from where you can download additional effects, cliparts, templates etc. Apart from these free resources, there is Deluxe version of this software called Wondershare DVD Slideshow builder Deluxe. It has more power than the standard edition and it not only make your photos look beautiful but it also has the ability to turn your home made videos into Hollywood style.
Giveaway :
Thanks to Wondershare for giving us 5 copies of Wondershare DVD Slideshow builder Standard edition to giveaway to our readers. So, if you are interested in grabbing this wonderful slideshow builder then finish the two steps below :
Leave a comment below.
Winners will be announced on 22nd of this month.