Happy Halloween everybody! Hope you are enjoying Halloween a lot. Few days back I received an email from Viola of Digiarty with some surprise gifts inside. This really took me by surprise because I didn't ask them, they've sent free license keys on their own. They've sent 10 free license codes of WinX Blu-ray Decrypter (each worth $49.95).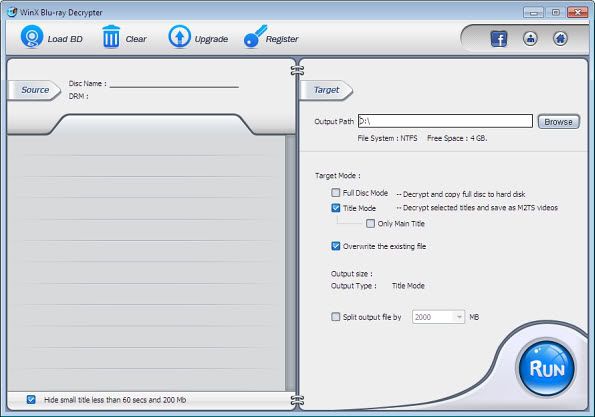 Developer's Description of WinX Blu-Ray Decrypter :
WinX Blu-ray Decrypter is a professional Blu-ray decrypting and copy tool for users to decrypt and backup Blu-ray to M2TS video file or Blu-ray folder (compatible with Win7 Media Player). It is able to remove and decrypt encryption (AACS MKB v25), BD+ copy protection, etc. in Blu-ray disc. With this program, you can effortlessly protect your beloved Blu-ray discs from scratch or loss.
Features of WinX Blu-ray Decrypter :
Decrypt and backup Blu-ray to M2TS video file.
Decrypt and copy Blu-ray to hard drive as Blu-ray folder.
Transform 3D Blu-ray disc to 2D video.
Play the decrypted videos on DAPlayer, Win7 Media Player, VLC, MPlayer, etc.
Support Blu-ray DTS/E-AC3 and MLP/TrueHD Audio System.
Remove all known Blu-ray encryptions (AACS MKB v25), BD+ copy protection, etc.
Support the latest encrypted Blu-ray discs such as Thor, Transformers 3.
Download : WinX Blu-ray Decrypter
Giveaway :
First of all, I thank Digiarty for all the goodness they are showing to us and our readers. So, if you are interested in winning a free license key of WinX Blu-ray Decrypter then fulfill the following :
Do anyone of the following (which ever is convenient to you) :
Leave a comment below.
P.S. : Winners will be selected randomly using random.org and we'll announce winners on 5th November.
Winners :
Congratulations to every participant who wished to win a license. Out of 13 participants, 10 people have requested for a license and we have exactly the same number of licenses. So, all 10 valid participants will receive their free license key soon.