Dealing with small number photos is easy but what if the number grew to big figures? Say, you have hundreds/thousands of photos, then finding out particular photo through sorting or classification is not so easy. That's where programs like Easy Photo Sorter will come handy. It is like your personal assistant when it comes to classifying your photos. As the author says :
You need only 3 clicks to do this if you use Easy Photo Sorter.

Select a folder with your photos.
Select one among 12 possible ways of sorting and one among plenty ways of renaming.
Select a folder for your collection to be copied and removed.
Installation of the software is easy and the interface is clear and well guided. Easy Photo Sorter wizard will guide through all necessary steps in order to classify your photos in the way you want. It is not a virtual classification as some photo manager does, since at the end you will see a new structure of folders holding classified photos.
Sorting Photos :
The first step is to add the source directory( which has the photos) and you will see the total number of images. If you do not want to change the names of the selected folders, then, select the "Keep folder structure" checkbox.
The second step is very important which deals with Sort And Rename Options. As you can see there are some presets available for sorting (Year/Year-Month/Year-Month-Day, Year-Month-Day etc,.). If you are not satisfied with default presets, you can manually create your own sorting style (Choose Your Own Folder Structure). Rename Files function also offers predefined templates like FileName(Date), Camera FileName, CustomText Date_Time etc. If predefined templates doesn't suit you then you can manually create Custom Template to rename files.
Now, third and final step is Select Output Folder & Save. You can either Copy or Move the sorted photos to custom directory, you can as well create a shortcut on desktop, so as to easily open the folder if deep inside Windows hard drive.
Conclusion :
Features of Easy Photo Sorter :
Access all  important events in your life (photos) from one place.
Sort photos in chronological order etc.
Bulk rename folders in memorable manner using the folder structure. You can sort your photos collection from among 12 possible variants.
The original variant of your collection is preserved. Easy Photo Sorter only copies your photos while sorting them.
Photos without EXIF can be kept in a separate folder.
Over the years, thousands of photos will be nested deep inside your hard drive, now more complications arise if they are scattered over multiple drives or partitions. With Easy Photo Sorter you will be able to reorder photos into some meaningful order and even copy them to another place like to an external hard drive, if you want to carry them to other place.
Download Easy Photo Sorter trial (250 photos can be sorted) from the link below.
Download : Easy Photo Sorter
Giveaway :
A big thanks to the developers of Easy Photo Sorter for sponsoring 15 licenses, to giveaway to our readers. If you are interested to grab this wonderful photo sorting software, then do the following :
Do anyone of the following (which ever is convenient to you) :
Tell us why you want Easy Photo Sorter. Please use a valid Email ID while commenting.
Winners will be selected randomly and will be declared here itself on 7th February. All the best!
Winners :
Congratulations to the following winners :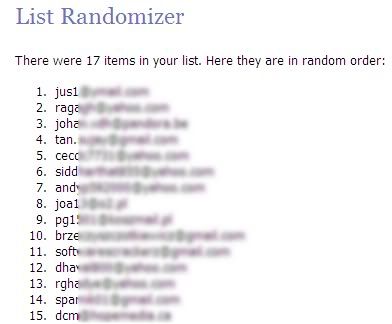 Winners will receive an email from us shortly.