Edit File and Folder Properties Easily With File Property Edit [Giveaway 34]
In order to facilitate document management, I need to modify the advanced file attributes like the creation date, author name etc, but the built-in Windows function does not support these operations, then, what should I do to change the advanced attributes of the files? Power users can do some operation via the command ATTRIB available in the command line windows. But people who are not geeks, can do it easily with a very light-weight tool called File Property Edit.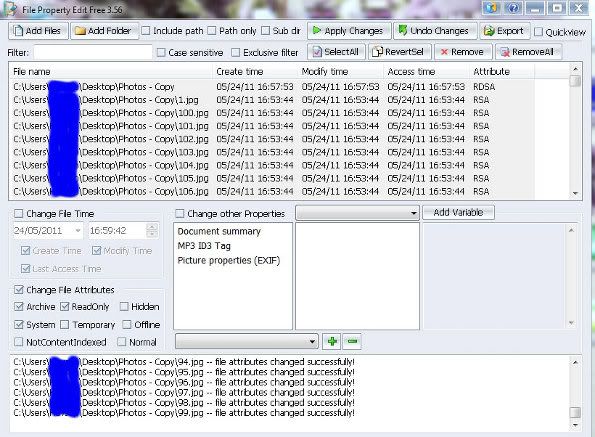 File Property Edit is proposed in a freeware version and a shareware version (PRO). Installation is easy and can be launched directly for management purposes. Using the Add Files or Add Folder you can add files and folders to the list or else, simply drag and drop to add files to the list. A Filter box is provided in order to clarify the list of files to have their attribute changed, thus typing the keyword in this edit box, the files that do not match this filter will be filtered out. Handy if the folder includes hundreds of files.
With File Property Edit you can easily change all files & folders' Read-Only file/folder attribute with just one click. There are several options like include subfolders, Apply to files, Apply to folders for customizing operation types. Changing attributes and date/time stamps on file and folders in Windows is somewhat troublesome – but with File Property Edit it is just one click away.
You can change many properties easily. Say, to change File Time first check the Set File Time checkbox, then all the file time related controls are enabled. With just several clicks, you can easily change the files' attributes, including create time, modify time, last access time, Read only, Hidden, System… and modify their properties,  handy for batch files properties editing. If something goes wrong on the road then the 1-click Undo feature allows you to rollback all the changes you just made.
Some Features of File Property Edit:
Change file and folder's "created date time", "modified date time", and "Last access date time".
Files filter support case sensitive and exclusive filtering.
Support modify MP3 ID3 Tags including V1 and V2 (Pro Version).
QuickView feature added – support thumbnail preview of photo (Pro Version).
Support modify Document summary properties on Vista and Windows 7, for both 32 bit and 64 bit system (Pro Version).
Edit the file's summary properties including: "Title", "Subject", "Author", "Keywords", "Comments" (Pro Version).
3 year free update to latest version and free activation service (Pro Version).
File Property Edit is very useful if you are in the business of editing the file properties frequently. File Property Edit will allow you considerable flexibility and gives you more control over your files. The pro version has more functions like, Exporting file properties into XML or CSV file. Changing all of your photo files from Read-Only to Read-Write and vice-versa, quickly etc. Download the free version and upgrade to the shareware version for more power.
Download : File Property Edit
Giveaway :
A Big Thanks to Foryoursoft.com for allowing us to select 30 winners and each of them can either choose any one from their two products, namely, File Property Edit Pro or Batch Rename Pro. So, in order to participate you have to do two things :
Leave a comment below, telling us which software you'd like to win, whether File Property Edit Pro or Batch Rename Pro.
Winners will be announced on 13th June.
P.S. : You can also, buy File Edit Pro at 15% discount with this discount coupon FORY-XVS2.