Few months back we wrote an article about Secure My Files (link here), remembered it? We also had a giveaway. Recently the software was updated to version 3 and users will find out that there is a new well developed interface which is a clearly guided, plus with exciting new features.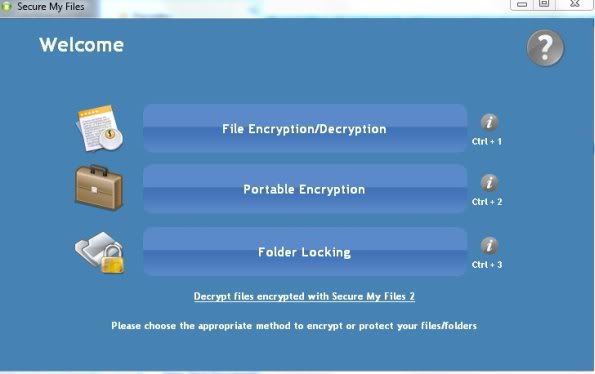 List of major changes in Version 3 :
Advanced File Encryption (AES 256b), encryption speeds up to 40 MB/s on HDD
File encryption uses parallelization and multithreading
Drag & drop, virtual keyboard and full keyboard support to prevent keyloggers
Secure Bins are now portable. Lock folders with just one click
Encrypt/decrypt your removable drive anywhere
4 Skins for the application, more languages and better design
Secure Bin formation has become more easier with version 3, since drag and drop operation is now supported. You can just drop some files into the File Encryption section and in seconds, your files will be encrypted. Click on Portable Encryption (or CTRL+2 hot key) then choose Secure Bin Encryption (CTRL+B) then activate New Secure Bin (CTRL+N). Windows explorer will invite you to name the new secure bin and choose a destination, then to proceed you must add a password and the good thing is that the new version support input through Virtual Keyboard, just check the corresponding box and the virtual keyboard will appear. After entering the password the next interface is dedicated to host the files through drag and drop and to fast encryption. Notice that on the right side there are more tools such as to remove, edit…
Now that the operation is concluded, open the destination folder and you will notice 3 parts :
The first file is the Secure Bin (.smfbin) – holds the index of the files
The second file has the contents of the files (.smfbin.content)
The third file is an exe file which is meant to extract the Secure Bin on another computer.
Also all features are way faster than version 2, since a new language is used to write the software. File Encryption/Decryption is automatically determined by the file extension. Also, say you drag and dropped 5 encrypted files and 3 normal files then the program will decrypt those 5 files (providing the password is correct) and encrypt those 3 files with that same password. So, you can decrypt and encrypt files at a time. I must appreciate this feature. A detailed log is displayed after each encryption/decryption.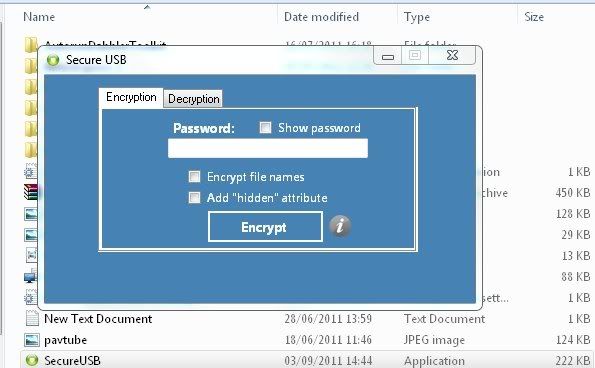 Removable drive encryption is supported and it has got better. You can decrypt and encrypt your removable drive on any computer without Secure My Files installed. Just go to Portable Encryption then to Removable drive encryption, and create a Toggler for the USB drive. Now, you can run that program to encrypt/decrypt your files anywhere. It also supports file name encryption, and also has the option to hide files on the removable drive.
Folder locking is supported only on local drives (not supported on removable drives due to permission issues on other computers, and the need to convert the drive to NTFS). Folder locking is great. You can right click a folder and choose to Lock/Unlock (the program will know what to do). In order to use folder locking you must first set a password for this feature.
As we can see Secure My Files is revamped and many wonderful enhancements are included and this make encryption/decryption reliable without loss of information. For now it is only compatible for Windows Xp/Vista/7 but soon will include MAC and Linux. The software comes with 15 days of trial and can be downloaded from this below link.
Download : Secure My Files
Giveaway :
A Big Thanks to the developers of Secure My Files for giving us 10 licenses to giveaway to our readers. If you are interested to win Secure My Files then,
Try Secure My Files and tell us what features do you want to see in next version by commenting below.
Winners will be announced on 8th September.
Discount (Get 70% off) :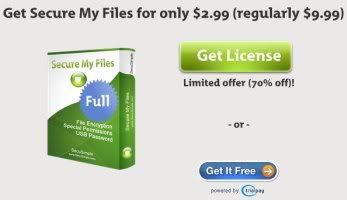 Secure My Files is a simple and very useful software. The price of this software is very competitively priced at $9.99 and everyone can afford it and avail the benefits of it. But, the developers of Secure My Files are very good to us and our readers and they gave an awesome 70% off on Secure My Files. So, now you can buy Secure My Files for mere $2.99 (a killer deal). So, even if you don't win in this giveaway don't worry, you can buy it for just $2.99. Click on the below link to avail this discount.
Secure My Files 70% off discount code (Offer Expired)