This is not the first time that we are talking about applications that improve the functionality of the classic Windows Task Manager . There are many task managers in the market but only few act as plugin for windows task manager. Having more options and info will enhance the view and usability of task manager and Task Manager Pro comes under this category. Let us talk about Task Manager Pro (Taskmgr Pro).
Installation of this software is easy and it integrates itself automatically into the Windows Task Manager therefore the new buttons are available right away such as
TCP/IP,
Startup,
Shutdown and
Shares.
With Taskmgr Pro, a user can batch-terminate processes by editing list. To do this, Go to New Kill List in the drop down menu and generate a list name such as pocess1.xml, this will appear in the dropdown menu, then go to kill LISTS Settings and start adding processes by clicking on Edit. This will popup a new window to add process. Activating the new Kill List Process will be easier to see since the corresponding processes will be marked in the process view window, then with one click on Execute List all processes in the Kill List would be batch terminated. The Resurrect Process, once activated will reload all processes that were terminated by Kill List and will be  launched by TaskmgrPro (=resurrected).
Usually, if you want to see all the used and listening ports on your computer, you'd use the NETSTAT command. TaskmgrPro uses the additional TCP/IP tab to display all established TCP connections and all open ports (TCP and UDP).  Apart from just listing the open ports, it also displays important information like process which opened the port. Right click on an item and choose Go To Process and this way you will see if it's a malware intrusion or not. If you are suspecting unusual behavior on your computer and suspect it to be some spyware or other malware transmitting data then you can kill the process that opened the ports, and save the TCP/UDP ports information.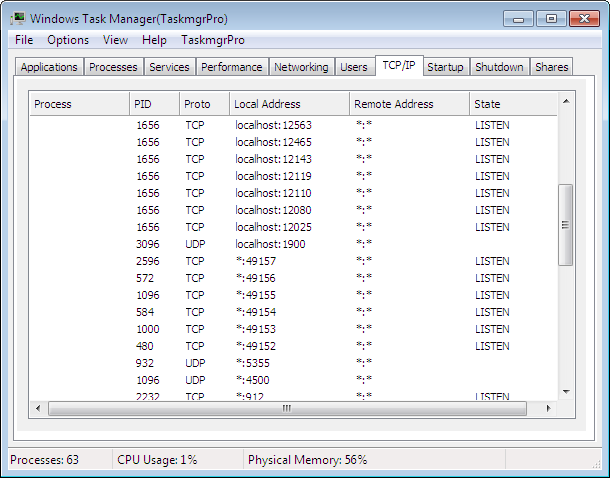 The Startup section will list all process that starts with windows and there is a choice to terminate and remove if required. The user will find an enhanced version of task manager and will be delighted to see  the TaskmgrPro Shutdown Scheduler which is a handy add-on for Windows Task Manager, it is integrated into Windows Task Manager so you can access it quickly. So make your PC turn off, log off, restart or hibernate at a specified time. Notice that Shutdown Scheduler is a freeware and can also be downloaded from the softmaker web site.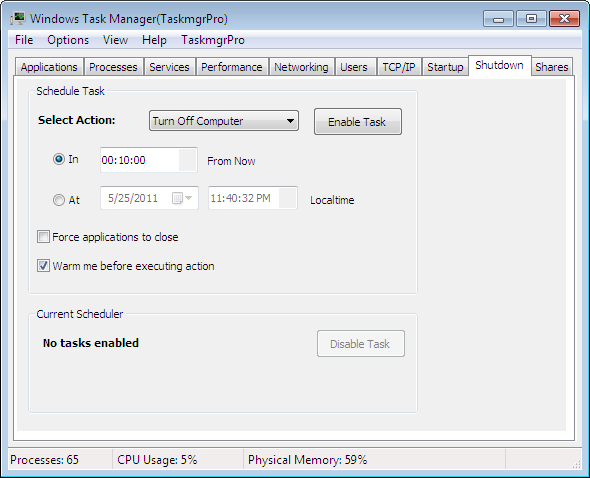 Finally, the Share tab provides an easy way to manage shared resources on local computer. You can use it to view a summary of connections and resource use. You can disable a shared folder without deleting it from the list and then enable it at any time.
If you are particularly very worried about the usage of CPU or RAM memory on your system then this is the tool for you. Download the trial version and upgrade with your convenience.
Download : Taskmgr Pro
Giveaway
Developers of Taskmgr Pro were kind enough to give us 5 licenses to giveaway to our readers, so a big Thanks to them. Not just 5 licenses, they have also given us 30% discount code if you are interested in buying Taskmgr Pro (worth $19.99). Just use TASK-0KED coupon code to get 30% discount and enjoy lifetime upgrades for free.
As you all know, to enter into contest you have to fulfill two simple rules.
Leave a comment below.
Winners will be announced on 30th May, 2011.