All cd/dvd can be degraded over the time with different rates of degradation and this depends on how they are protected against damages, also some errors occurs  if the writing method was not very successful on cd/dvd. Some cd/dvd reader-writer behaves differently on scratched media and if you would like to go to cdrlabs and read more regarding tests made. For instance visit the below link
www.cdrlabs.com/Reviews/pioneer-dvr-116d-20x-dvdrw/Performance-CD-Read.html
The quality of media are also important those who are made from phtalocyanine are considered to have a better life cycle than those made from cyanine. The most common errors that we encounter if we try to copy files from damaged cd/dvd is Cyclic Redundancy Check (CRC) errors. CRC is a mathematical method employs during the copy of files from those media. During the copy of files to hard drives the operating system makes a calculation and returns some numbers which is known as checksum that is used to identify the files. When the checksum do not much then CRC errors occurs and the file cannot be copied to the hard drive. With scratches on those media the severity of the problems relies on their locations. Such as those that runs across the disk or along the track or the ones that are from straight line from rim to centre.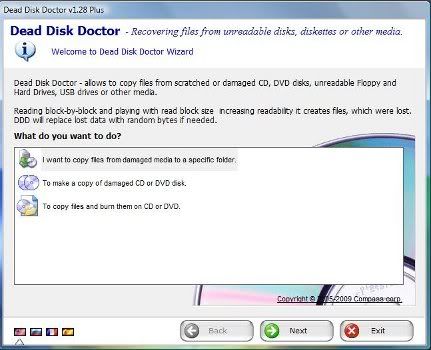 Normally when your computer is unable to copy a file from a damaged disk it will abort and delete the portion of the file it has copied. Once we have a damaged media that contains important files we would like to recover back therefore we need help of a software and here is where Dead Disk Doctor Plus propose its knowledge to overcome this problem in a professional way. This program will continue to copy the file right to the end. Any data that is not recoverable after many retries is replaced with blanks. Dead Disk Doctor can be used on any damaged media such as unreadable disks, diskettes , USB or other media. At the end of the operation it will clean the files and copy them. This software extracts the intact portion of your data and tries to recover problem areas. You can either choose to recover selected files, or the whole disc. Dead Disk Doctor Plus offers a handy interface and the choices ranges from
I want to copy files from a damaged media to a specific folder.
I want to make a copy of a damaged cd or dvd.
I want to copy files and burned them on cd dvd.
The first option once chose will offer to you a new screen where you can choose the drive source containing the media to be recovered.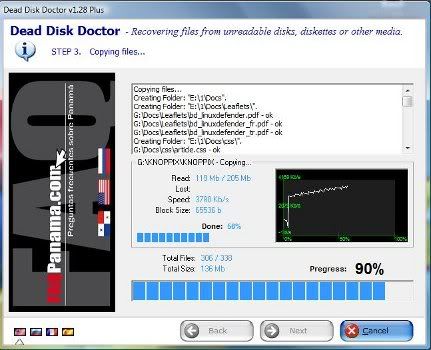 You can also see the speed recovery and the progress of the recovery. Routine reads file by 4-16kb blocks and when hardware involves errors, the size of block decrease two times and so on until the moment when block of data will be read without any errors, or it reach minimum read size block, depending on file system, then program skips one block and starts to read second one. During the recovery process Dead Disk Doctor Plus tries to recover damaged portions because the recovery is done by replacing lost data with random bytes reading files by expandable blocks. If the recovery is taking too long you can also pause, save and resume sessions at some other time. Even if some part of the media is completely unreadable, it will be replaced with random data. So if you have a damaged video which is infected with the stops and skips process then after Dead Disk Doctor Plus operation you may see only some video artifacts for the less then a second. The same operation is also done on Audio and image files. As usual with every windows based process more powerful configuration will speed recovery speed and shorten the required time and efforts. Dead Disk Doctor Plus is a handy utility to be approached in order to save from damaged media what we think are important.
Technical information:
Interface Languages: English, Russian, French, Spanish.
Compatible Media Types: CD: CD, CD-R, CD-RW, Mini: CD, CD-R, CD-RW; DVD: DVD Rom, DVD±R, DVD RAM, DVDRWSR, DVD±RW; Hard Drives, Flash Memory Cards, USB drives, Floppy Disks.
Compatible File Systems: FAT, FAT 32, NTFS, ISO 9660 (CDFS), UDF. Audio CD Support: no. Regional Protected DVD: no.
Minimum Read Block Size: Depends on File System (from 512 b. up to 2048 b.).
Maximum File Size: 2 Gb. CD and DVD burning (Plus Version Only): CD-R, CD-RW, DVD-R, DVD-RW.
The languages used to create it is Visual C++ MFC and Visual Basic 6.0.
For more info visit their web page : www.deaddiskdoctor.com
Giveaway :
Dead Disk Doctor is a very useful software for everyone, since we all face problems with scratched media and other degraded storage devices. So, we wanna give away 10 licenses of Dead Disk Doctor Plus. To win a Dead Disk Doctor license, you have to fulfill two things.
Leave a comment below and tell us why do you need Disk Doctor Plus.
Last and the least, become our subscriber.
Contest Duration and other details : The contest will end on 29th December and the winners will be declared 30th December. Please use the same email address for leaving a comment and to subscribe to us.