Download Managers are one of the essential softwares and many people use them to monitor and enhance their downloading experience. Internet Download Manager (IDM) is a popular download manager for Windows. In this review let us briefly discuss about the features of Internet Download Manager and the advanced technology used by IDM.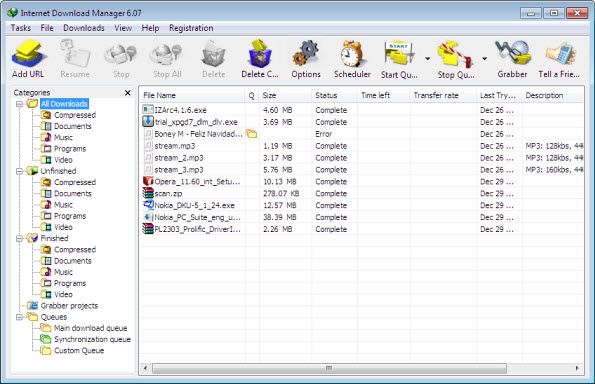 The interface of IDM is simple and easy to understand. As you can see, you'll find several icons listed in the toolbar. These icons will give you quick access to manage your downloads like adding new downloads, resume paused downloads, delete downloaded files, start/stop queued downloads etc.  If you find these icons boring, then you can replace them with new icons by right-clicking on toolbar and then choosing Customize. Several toolbar icons can be downloaded from IDM toolbar customization page. Below this icon list, on left pane you can find your downloads categorized into respective categories. On right you'll find the list of your downloads which can be sorted by using different columns. You can also add/remove those columns by right clicking and then choosing Columns.
Main features of IDM :
Advanced Browser Integration :
You can integrate IDM into any internet browser. By default, IDM is well-integrated with popular internet browsers like Internet Explorer, Chrome, Firefox, majority Safari, Opera and NetScape. If your internet browser is not listed then click on Add browser to manually integrate IDM into your browser.
Scheduler and Queues :
Every day we download files with different sizes. Sometimes we download very large files which takes several days to finish downloading (depending on Internet Speed). Monitoring (pausing/resuming etc) those big downloads manually over a long time can be tough. This is where Schedulers will be very helpful.
IDM comes with two types of scheduled queues :
Main download queue : This queue can accommodate downloads of all sizes. Depending on the size you can either choose One-time downloading or Periodic synchronization.
Synchronization queue : This queue is very useful for webmasters or people who work with servers. This queue can be used to synchronize files to on your hard disk from a remote source. Say, if a file has been changed on the server, then IDM will detect it and it'll redownload that file to your hard disk so that the contents will stay synced on hard disk and remote source.
Also, you can create your own queue with settings defined by you.
Powerful Site and Streaming Media Grabber :
Media downloading ability has become an essential requirement for present day download managers. IDM can download streaming audio and video files etc., using it's advanced media grabbing technology.
IDM supports popular video and audio streaming sites like YouTube, Veoh, Hype Machine, Grooveshark, FineTune etc.
If you are a heavy downloader and have paid accounts at file sharing sites, then IDM will be of great help to you. If you are a premium user, then set username and password in IDM settings. Then select all links and then choose Download with IDM. In just one click, you'll be able to download to download all files at once.
Site Grabber :
IDM's Site Grabber is an interesting and useful feature. Say, you came across a webpage or website that has several images (wallpapers) or documents or videos, and you want to download them all. The usual way is to download each file individually, but it is a time taking process. With IDM Site Grabber you can download all of them in a single click.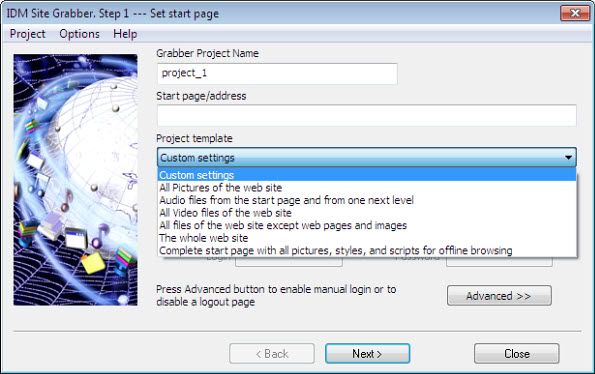 Launch Grabber, choose a predefined template or create your own custom template. Now, IDM will crawl the whole website/webpage and downloads the files. This way you can save videos, pictures, music, documents or even the whole website to your hard drive.
Conclusion :
Pros :
Integrates well into many popular web browsers.
Powerful streaming media downloader.
Supports batch downloading very well.
Site grabber will let you download individual webpages, whole website or separate files of website like Images, videos etc.
Supports HTTP, HTTPS, FTP, RTMP protocols.
Categorizes downloads into respective folders according to their file types
Cons :
I found that IDM interrupted Opera's program updating mechanism. Apart from this I didn't face any other major drawbacks.
Internet Download Manager is power packed with many useful features like advanced browser and system integration, media grabbing ability, batch downloading and scheduling etc. Its advanced downloading technology and easy-to-use interface, makes IDM stand out from the crowd.
Giveaway :
A big thanks to Tonec, for sponsoring 10 licenses of Internet Download Manager. These licenses are valid for 1 year only, you'll get free updates and upgrades during that 1 year. So, interested to grab this powerful download manager? Then do the following :
Do anyone of the following (which ever is convenient to you) :
Tell us the feature which you like/dislike the most in IDM, by leaving a comment below. Please use a valid Email ID while commenting.
Winners will be selected randomly and will be declared here itself on 14th January. All the best!

Winners :
Congratulations to the following winners :
Winners will receive their licenses via email.