So far we've seen some important features of MediaMonkey in last two articles, here and here. MediaMonkey have been impressive and even I learnt a lot about MediaMonkey along with you all through these reviews. Most of the functionalities of MediaMonkey Gold are included in the free version too. So, even with MediaMonkey free version we can accomplish many common music related tasks. Some notable features of MediaMonkey that we didn't discuss in our previous articles are
Song Converter and  CD Ripper and Burner :
MediaMonkey comes with in-built song converter and ripper which can rip CD's and convert almost any audio format to MP3, M4A, Flac, OGG, WAV. With MediaMonkey Gold you can rip and convert unlimited MP3's. With in-built burner you can create Audio, MP3 and Data CD's.
Addons and Scripts :
The performance and playback of MediaMonkey can be enhanced by using Addons and Scripts. You can find a huge list of user created addons and scripts at MediaMonkey's Forum. Few addons to start with are
Sleep Timer :
If you have a habit of sleeping, while listening to music then Sleep Timer will be a great feature made for people like you. With Sleep Timer enabled, you can happily sleep by listening to songs without worrying about turning off your PC. MediaMonkey will slowly fade the songs and after a particular time (which you'll set through timer), MediaMonkey will only perform Shutdown, Logoff and Sleep actions, which ever you choose, while you are asleep.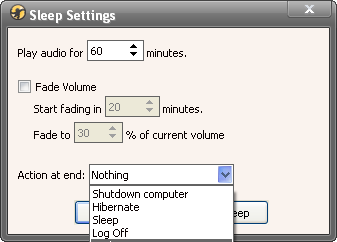 I hope that the articles published here will be helpful to you in maintaining your Music Database effectively. By the way, watch out for MediaMonkey 4 it has video playback features. MediaMonkey 4 is not yet released. It is in beta. You can download and find more information about MediaMonkey 4 here.
Giveaway :
Through this article we are giving another 5 more licenses to our readers. Interested readers have to
Leave a comment below.
Tweet or Share it on facebook (Optional)
Winners will be announced on 1st January, 2011. Advanced Happy New Year to you all and your family and I wish whole heartedly that 2011 brings Joy, Success and Peace to your life.