All Kinds of windows based computers will face the same issue after some time of daily use and they will say: Why My Computer Is Sluggish: What To Do?
In this case the answer will be, try a system utility that will take care of spring cleaning the computer. Bringing back the youth shape once that was there when the pc was purchased brand new or after a fresh O.S. installation. Appsmaker's OptimalPC, can do this by fighting the slow pc. This software is able to accurately diagnose and to repair windows with few clicks. It will remove junk files, repair broken registry keys, optimize the memory, disable unnecessary background services automatically, defrag hard drive, repair broken internet connection, also will fix problems such as system errors and security vulnerabilities. Permanently remove your Internet activity, personal files and wipe free space to keep your information away from prying eyes.
Installation is easy and the user has the choice to activate The DeskTop Styler and to Install FastBoot-Extensions. The software will also install two icons on the windows taskbar in order to QuickLaunch Shutdown and QuickLaunch Suspend. The Desktop Styler which acts as a Desktop Rotator, will automatically rotate through the best Flickr Images and set them as Background. This feature guarantee quality pics. By right clicking Desktop Styler systray icon the user  can save the image or can access the settings from there it is possible to Start It With Windows, to choose the category of images to be displayed such as Interesting Photos, My Favorites… Also can modify the rotating time..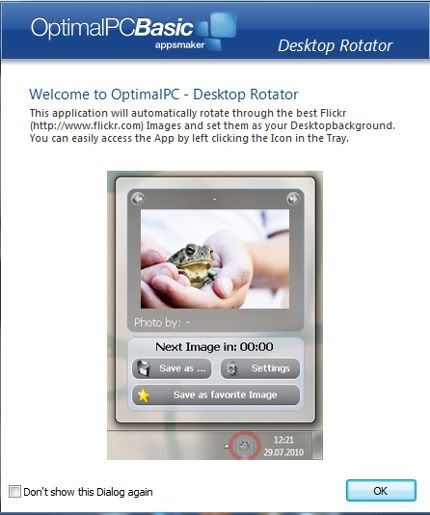 For the first time OptimalPC Basic edition is launched then the advisor will help the user in their first step, such as to create a certain profile based on the answers given, configure and execute automatic care and optimization. Then once reached to the main interface of OptimalPC the user will find it well build and easy to use, this summarize the shape of the windows and which kind of repair should be done. For instance Clicking on show details in the System Optimization Section then a new window will be opened and will inform the user the kind of repair that will be made also there is are advices on how to upgrade your system.
Below the 4 sections there is a dock that contains 5 icons so clicking on them will pop up a new window revealing the containing features. There is also a small icon named as Feature clicking on it will expand and will let the user to reach to all sorts of functions (and subcategories). Using OptimalPC one can clearly see and monitor which kind of action is taking place and for which purposes. From the RescueCenter it is possible to revert to an earlier state if something went wrong.
Optimal PC free basic edition features
Basic system optimization
Boot speed up and administration of autostarts/services with security check and Community features.
Basic Cleanup of drives, registry and shortcuts.
Basic software manager.
Desktop Rotator with Flickr support.
Extend system information, disk analysis including benchmark, task manager
Internet Booster.
File Shredder.
Basic support via email and automatic updates.
Windows XP/Vista/7.
The Pro version will bring more such as:
Extended Defragmentation incl. automatic Optimization, Fast Defrag, Complete Defrag…
Auto-Defrag-Pilot detects and activates the best optimization strategy
Harddisk Monitor with alarm system to detect and prevent data loss and disk errors
Scheduled tasks for automatic optimization. And More….
This innovative software can help you optimize your system to suit your needs. It has 25 function modules to increase the system performance, stability, reliability and security, thus improving the performance of your computer, speeding up application launches.
Regular pc maintenance is important in order to increase functionality and productivity, limiting error message, avoiding BSOD screen, and to be able to arrive to a satisfying situation. To attain it, Windows users have to employ a system utility software. OptimalPC is available in two versions. The basic version is free and can be used for unlimited number of times. The Pro version can be used without any limitations for a period of 14 days. Both version can be reached from the links below.
Download : OptimalPC Basic or Pro
Giveaway :
A Big Thanks to the developers of OptimalPC for giving us 14 licenses to give to our readers. Interested people should
Subscribe to us and
Leave a comment below.
P.S : Giveaway is now closed.