According to the popular expression, a shared secret is no longer a secret. A USB key is good, an encrypted USB key is better! I am sure some have already met or read this case : have forgotten USB key at work, or somewhere else, while it contains confidential data. There is always the fear that someone retrieves the USB key and discovers the data, and worse uses the data :(.
How it works?
USBCrypt is user-friendly, effective and efficient solution to such kind of problems. Its principle of encryption is based on an original and exclusive algorithm. The software is intended to perform the encryption and decryption on the system. Generally, the USB key are used as visible removable media as a single disk on Windows. Nevertheless, it is possible to create multiple partitions on a USB key like on a hard disk. If we want to protect data on a USB key, it is possible to have an encrypted data partition, and a partition with the software necessary to encrypt and decrypt the secure partition. USBCrypt partitions (virtually) a usb key, and encrypts a part with a password of your choice. The advantage of this software is that it directly contains the encryption on the USB key, and therefore no need to install USBCrypt on the host pc. So after partitioning, you have encrypted hidden part and another visible part that you can use normally (without password) in the daily tasks.
Once a user creates a virtual encrypted disk, that disk is assigned a new drive letter and appears to the user like any other system drive (like the D: or E: drive). I can, therefore, after having indicated the password, navigate in my encrypted files (the software performs an encryption/decryption on the fly, which means that I not need to encrypt/decrypt manually file by file, which represents a gain of precious time :D).
Coming to Usability…
The installation is easy and no reboot is required, Clicking on USBCrypt exe from Desktop, starts the wizard. It's also possible to create a spare key in a chosen folder, to archive this, click the Options button then a new window will be opened to do the necessary actions and to create the folder that will host the spare key.
Clicking on the small blue arrow (bottom-right) will launch the encryption and the process to formation of the Virtual Encrypted Disk.
So continue to the next step and personalize the usb key. The next step is more to give attention since will deal on the creation of the Size of the Virtual Encrypted Disk and to choose either system FAT or NTFS for more info and guide then follow as described by Winability's USBCrypt user guide .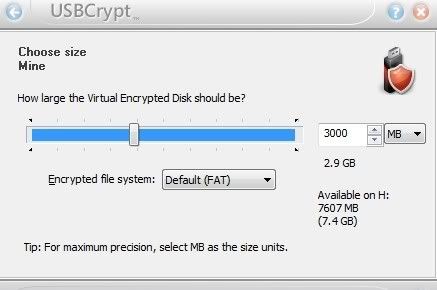 Follow the process by choosing the password and if you are lost in the selection of a strong password then just click Help Me Choose A Good Password which takes you to the choosing a good encryption password article. Also read this following article regarding Test The Strength Of Your Password Created By USBCrypt.
And if you hesitate on the choice of the length of encryption key 128 or 256 bits then click on Help Me Choose which takes you to 128 vs 256 bit encryption article. The vulnerabilities for data leakage are not a result of encryption key size when 128-bit keys are deployed. The primary vulnerabilities are in software, key storage and authentication.
Finally When USBCrypt is ready to create the Virtual Encrypted Disk, it offers you to review the options that you have selected on the previous screens. Then a progress bar will appear thus providing a visual form of the creation of the Virtual Encrypted Drive.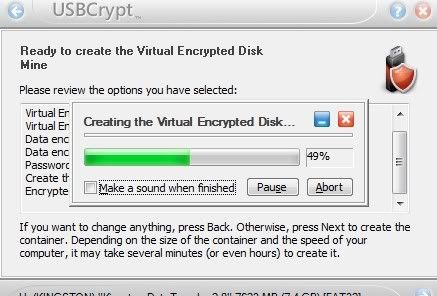 Features :
USBCrypt Features:
USBCrypt Installs directly on the drive.
USBCrypt Offers a protected and an unprotected partition partition.
USBCrypt can be Used even without administrator privileges.
USBCrypt keeps your sensitive files safe.
USBCrypt works with drives of any type. USB thumb drives, flash memory drives, portable hard drives, internal hard drives – you name it. If your computer recognizes the drive, USBCrypt can encrypt it.
USBCrypt works with drives of any format. You don't need to know if your computer has NTFS or FAT/FAT32 drives, because USBCrypt can handle both, automatically. It can create NTFS-formatted Virtual Encrypted Disks on the FAT-formatted drives and vice versa.
USBCrypt can handle drives of any size: From 1MB to 2TB (which is the current limit of Windows).
USBCrypt runs on any Windows computer. If it can run Windows, it can run USBCrypt.
USBCrypt is enterprise-ready.
Conclusion
USBCrypt secures many drives that are not secured of origin and promises correct speeds and greater security of the data in encrypted drives, so that you can stay happily without worrying about someone stealing your confidential data. So, why not download the trial version from the link below and upgrade to full version with your convenience.
Download : USBCrypt
Giveaway :
A big thanks to WinAbility Software Corp for giving us 10 licenses of this wonderful and useful USB encryption software. People who want to win this software should
Leave a comment below.
Winners will be declared on 18th March.