We're having lots and lots of video converter giveaways and promotions in recent times. In midst of these numerous giveaways, I received an email from SothinkMedia to checkout their Video Converter. At first, I was hesitant to review their software. The main reason is because of numerous promotions of video converters and most of you won't be interested in yet-another-video-converter. But, before telling my opinion to SothinkMedia I thought of giving a try at it, because they also had a free version and after using it for sometime I decided to accept their proposal and in this article I want to let you know what impressed me about Sothink Video Converter Pro.
Sothink Video Converter Pro, is an all-in-one video converter. Even though its name is video converter, it supports huge number of audio formats and it also has the ability to convert videos into images.
The interface is unique. Usually newbies get confused by seeing lots of options like video codecs, bitrates, frame rate, aspect ratio etc. By default, Sothink Video Converter Pro never show these advanced settings to users. The Encoding Settings are neatly organized in an understandable manner and newbies can feel comfortable in using it. At the same time, advanced users can tweak the encoding settings by clicking on Advanced tab.
Media files can be added to the conversion list either by drag-n-drop or else by using the standard File menu, using which you can add files or folder to the conversion list. Sothink Media Converter also gets integrated into Windows explorer's right click menu and hence it is very easy to add files to the conversion list. Hence, there is no need to open the video converter to add files. Just browse and select the files, right click on them and choose Sothink Video Converter. It's that simple to add files to the conversion list.
Most of us love to cut a part of a song and put it as ringtone on our phones. This can be easily done by using the Trim feature of Sothink Video Converter. It lets you cut audio and video files. In order to extract part of an audio or video, first we need to add that file to the conversion list and then right-click on it and select Trim. This opens a new window and here we need to specify the start time and the end time of the clip which we want to cut from that file.
Another striking feature of this video converter is that you can extract each frame of the video as image (JPG, BMP, GIF etc). This will be useful if you want to put a particular frame as wallpaper etc. Not only that you can also create animated GIF's from video files. I tried creating few animated GIF's, but the quality of created GIF's are not same as the video, it's a bit degraded.
Lastly, I want to mention few words about the Options that it offers to us. From the Options window (choose Tools > Options) we can tweak settings of Sothink Video Converter. If we want it to convert at full speed, then we should give highest priority to Encoding process. Also, if you have multi-core processor then Sothink Video Converter can fully utilize them. Just select the number of cores, which can be used by the video converter.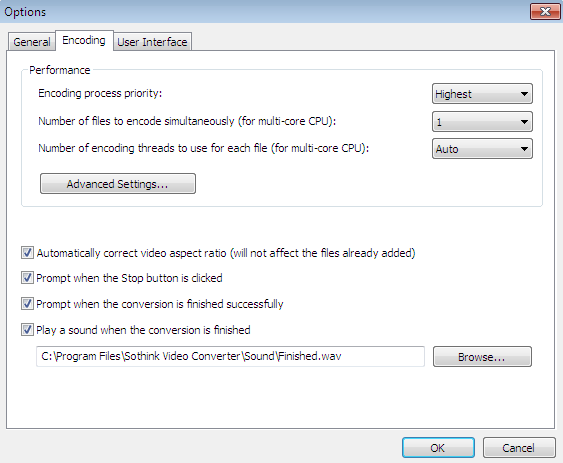 Sothink Video Converter is easy-to-use and you don't need extra ordinary knowledge about codecs etc to use it. Its easy-to-use UI and good integration into Windows explorer makes it much simpler to use. It's also fully optimized to work with latest hardware technology. As, I said Sothink Video Converter also comes in free version. You can try the free version. Differences between free version and pro version can be found here. So, download the free version and try it. If you want more power then you can upgrade to the pro version at your convenience.
Download : Sothink Video Converter
Giveaway :
A big thanks to Brenda Hu, of SothinkMedia for giving us 10 licenses of Sothink Video Converter Pro to giveaway to our readers. The licenses which we are giving away will not come with any updates or upgrades, but you can use that specific version for lifetime. So, if you are interested in grabbing Sothink Video Converter Pro for free, then please do the following :
Leave a comment below.
P.S. : Winners will be announced on September 4th, 2011.