Cyber crime is one of the most popular variant of crime today. New malwares are released every minute, every second, even faster than that the human birth rate. Malwares are used to do a range of destructive damage to the human community. To fight against this disease it is necessary to have layers of security in your computer system.
SPYWAREfighter from the company SPAMfighter is one of the less know anti-spyware that can be run in adjunct with the existing antivirus. Although a less popular name it infect derives its engine from the popular Virusbuster engine and Preventon technology. In fact it is using the anti-spyware definitions of VirusBuster. I found this software pretty effective and if some tweaks can be applied, it can surely stand in the same line of Malwarebytes Antimalware and Superantispyware.
SPYWAREfighter is not freeware. Rather comes as one months full fledged trial. After the end of trial you have to purchase it at at $29.00 per year. Becoming interested in this software I trailed this software.
The installation process was clean and fast and did not require a restart. After launching the software it straight forwardly started a lengthy update in the background.
It installs two tray icons: The yellow one is unnecessary and can be hidden. Tray icon is responsive enough to give current status of the antispyware. It animates during scanning and updating.
The interface is easy to navigate. It supports a number of languages.
It offers Full, Quick, Custom and Right Click Scan.
It has scheduled scanning.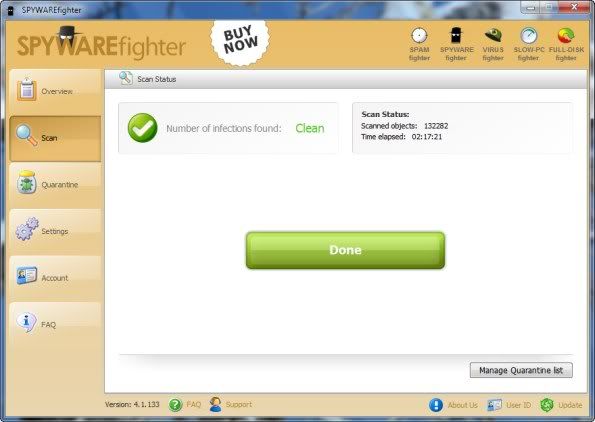 Realtime scanning is quite aggressive. It can scan for all file types or specific file types. You can also setup maximum file size to scan and also chose heuristic level. I haven't find any option to exclude selected files/folders.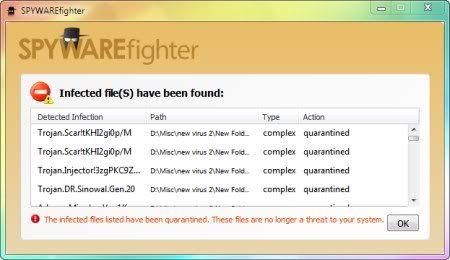 You can setup game mode, detection only mode and choose whether to "disinfect before quarantine".
You can use either all security modules or deactivate realtime scanning or automatic updates or both.
Updates are automatic although manual updating is also possible from Tray icon or from UI. You can setup proxy settings with authentication for connection.
It has logging abilities.
It runs 5 processes all the time: FightersTray.exe, FighterSuiteService.exe, swproTray.exe, AVScanningService.exe and AVWatchService.exe requiring an average of 140Mb at idle time with no CPU usage while during scanning requires 200Mb on an average with 20% CPU usage. That may sound like a huge system impact but it felt light in my PC (64bit Windows 7 professional, 1.88GHz Intel Dual Core, 2Gb RAM running along with ESET Smart Security and Kingsoft PC Doctor).
Although the software is a standalone anti-spyware, it is not officially recommend to run it with other antimalware except VirusFighter from the same company. Frankly speaking to me it sounded like a marketing trick. Anyway the representative from SPAMfighter didn't report me about any known conflicts with other anti-malware and I haven't experienced any issues since using it with ESET Smart Security.
To avoid conflicts I would like to ask you to add following SPYWAREfighter folders to your antimalware exclusion list.
To submit about new infections or false positives, you need to contact support.
My Verdict
Overall I found this application decent but few things to be improved.
RAM usage should be reduced. Actually this is a problem of Preventon engine itself.
Add official compatibility with other anti-malware.
The installer is only 2.25Mb in size. It is digitally signed by SPAMfighter ApS. The trial version can be downloaded from the following link.
Download : SPYWAREfighter
MD5     :E878BA34DC1448B156F13C86FB165B82
SHA1    :54DB19DAB5C4F12A97430D34B14D2AA8AB67C3BD
CRC32   :99BF3576
Giveaway
A big thanks to Patrick from SpamFighter, for arranging 20 licenses for our readers. Here are some information about the licenses :
These are 1 year license for 1 PC.
You can move the license from one PC to another but you will need to release the license first by contacting support. For activating the license after a format follow the similar procedure.
You can activate the license any time and when you activate it, its valid for 1 year. So, there is no shelf life of the licenses.
So, want to enter the draw to win free license key of SPYWAREfighter? Then do the following :
Do anyone of the following (which ever is convenient to you) :
Leave a comment below
Winners will be declared on March 25th.
Winners :
Congratulations to the following winners :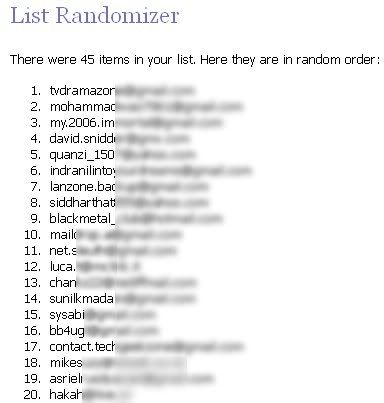 Winners will receive an email from us shortly.