Using (internet with) Windows without any security program is like rolling out red-carpet welcome to hackers and malware. Having a security program is not sufficient, you need to have a very good security program like BitDefender Internet Security 2012, that provides solid protection round the clock.
Interface :
BitDefender Internet Security 2012 has the next generation interface. Each component is nicely listed in slider. It has so many options, but BitDefender did a great job in keeping them in a clutter-free way.
Local Protection :
Antivirus :
BitDefender offers protection against all kinds of malware. Its real-time protection module will be continuously scanning the files in the background without using up much resources.
Scan :
It offers different kinds of scanning and they are as follows :
QuickScan : This uses Cloud-technology to scan active processes quickly. Usually the scan doesn't even last few minutes.
Full System Scan : Scans each and every file on your computer.
Custom Scan : Lets you scan desired files and folders.
Vulnerability Scan : This is some what new. It doesn't scan for malware, but it'll check your computer for vulnerabilities. It'll monitor Windows updates, Application updates and weak windows account passwords. If any updates are found it'll let you update then and there itself.
Rescue Mode : BitDefender Internet Security 2012 comes with in-built rescue mode (which is similar to the functionality of rescue CDs) to eliminate tough malware.
Apart from above scans, BitDefender scans removable media (USB HDD, Flash Drives, CD/DVD). So, as soon as you connect the removable media, BitDefender IS will scan and remove threats.
Online Protection :
Firewall :
For most of the part Firewall remained very silent with default rules. The Firewall blocks port scans, monitors Wi-Fi connections (OFF by default).
Apart from regular firewall, it also has a component called Intrusion Detection System. By default this is turned OFF. When turned ON it'll start protecting your computer against malware driver installations and will also protect BitDefender files from being hijacked by unauthorised applications.
Protects Privacy :
The Antiphishing protection will protect you against fraud and phishing websites. Another interesting feature is the Data Protection.
Data Protection will protect your Address, Email Address, Credit Card, Social Security Number, Telephone etc. All you have to do is create the corresponding rule and leave the rest to BitDefender Internet Security 2012. It will make sure that none of your personal information will leave your computer (via webforms, IM etc).
Other features :
Includes Trafficlight, the real-time web safety rating tool.
Protects you on Facebook and Twitter from malicious websites.
From a single computer, you can manage BitDefender products on other computers in a network.
Encrypts Yahoo messenger chat.
Parental Control protects your kids online.
Conclusion :
BitDefender Internet Security 2012 provides all-round protection against malware and hackers. It not just protects you, but it'll prevent possible future attacks by making you update your Windows, other applications etc. Social Network protection is a plus, for Facebook and Twitter users. Overall, BitDefender Internet Security 2012 provides solid protection but truth be said, it is resource hungry. If your PC fulfils the following recommended settings then only you are good to go. If not, you may experience issues like PC Slow down etc, in such cases it is best to contact BitDefender Chat Support (24×7), to get instant solution.
Recommended System Requirements :
Operating system: Microsoft Windows XP SP3 (32 bit), Vista (SP2), Microsoft Windows 7 (SP1)
CPU: Intel CORE Duo (1.66 GHz) or equivalent processor
Memory (RAM): 1 GB (Microsoft Windows XP) and 1.5 GB (Microsoft Windows Vista and 7)
Available free hard disk space: 2.8 GB free space (at least 800 MB on system drive)
.Net Framework 3 is required.
Download : BitDefender Internet Security
Giveaway :
Thanks a lot to BitDefender for giving us 8 Internet Security licenses (1YR, 1PC). So, interested in grabbing this AV-Test top performer? Then you have to do something different this time to enter the draw. For a change, we are going to ask you few questions and those who answer all of them correct will only enter the draw. No need of subscribing or commenting. Just answer to all the questions correctly to enter the draw. Click on the link below to start the questionnaire :
http://techishare.com/bitdefender-giveaway/index.php?sid=69483&lang=en
Winners will be drawn randomly using Random.org and the announcement will be made here itself on 20th December. All the best!
Winners :
In total, there were 101 responses to the questionnaire and only 56 of them have answered the questions correctly. So, as said earlier, we have randomized those 56 members and here is the list of our lucky winners :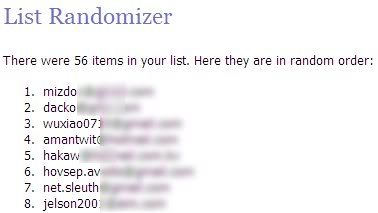 Congratulations winners. BitDefender Internet Security 2012 license keys will be emailed to you shortly.