In our previous article about MediaMonkey I've shown you how to organize your cluttered music library.  The magic of MediaMonkey won't end there. MediaMonkey has a very powerful set of features with which you can easily synchronize Music to portable media players like iPod or any other external device for that matter. In this article we'll be exploring the following Sync features of MediaMonkey Gold
Auto Conversion on the fly
More control on your device
Auto volume Leveling on the fly
Let us see the above features in detail.
Auto Conversion on the fly :
I have many songs on my PC and they are in different file formats like flac, wav, mp3, m4a, wma, aac etc. I use MediaMonkey to sync songs to device. Usually, I select the songs from MediaMonkey's library and then right-click and select sync to device from menu. For the first time, when MediaMonkey completed syncing, I was surprised to see that the files on the device are not in their original format but are in Mp3 format! What? I never converted the songs. I just transferred the songs which are in flac and wav format to the device. But on device they are in Mp3 format not in flac and wav. How can this happen?
The answer is Auto Conversion feature of MediaMonkey Gold. This magical feature does everything for you. You don't need to worry about file formats anymore. MediaMonkey converts the incompatible songs into device compatible format while syncing itself. All you need to do is just select sync to device option. MediaMonkey takes care of converting and transferring them to device. Cool feature, right?
More Control over your Device :
Everything is automatic in MediaMonkey, even adding and deleting songs from device. Consider, you've configured MediaMonkey to automatically sync a playlist to device. Now, if you add any song to the playlist then that song is transferred automatically from pc to the device. If you delete a song from playlist then that song is also deleted from device automatically. MediaMonkey gives you so much control over the device so that you can control the device (add or delete songs) even without exploring it or opening the drive.
Auto Volume Leveling on the fly :
Usually, the songs are recorded at different volumes using different technologies. So, when we listen them on our music players we hear some songs playing loudly and some other quietly at the same volume. So, everytime we need to adjust volume and at times this can be annoying. So, leveling the volume of songs is necessary and important. MediaMonkey can level the volume of songs too. You don't need to explicitly tell MediaMonkey Gold to level the volume, it's done automatically while songs are being synced or transferred to the device.
Setting up MediaMonkey :
In order to use the above features you have to setup MediaMonkey first. You can configure device from Tools>Sync Device>Configure Device.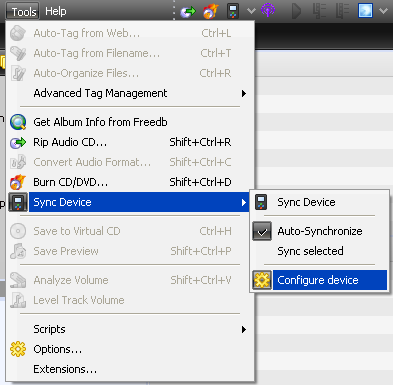 Then select your device and click Configure and then configure the settings.
The above features are few to mention. You can do so much more with your devices using MediaMonkey.
Giveaway :
In this 2nd giveaway we are going to giveaway 10 licenses of MediaMonkey Gold to our readers. People who want to participate in this giveaway have to
Leave a comment below.
Tweet or Share it on facebook (Optional)
Winners of 1st, 2nd and 3rd giveaways will be announced next year 🙂 i.e. 1st January, 2011.
Note: People who participated in 1st giveaway can also participate in this giveaway and in the 3rd giveaway. Here is another opportunity for you to win, so participate here and improve your chances of winning. Also, kindly notice that only 1 license will be given to the winner. If same person wins in both 1st and 2nd giveaway then he will be given 1 license only as he already won in 1st giveaway. His license will be given to the 11th person on the list. Kindly note this and if you have any confusion, please let me know through comments.