TuneUp Utilities, is a well known Windows optimization software that needs no special introduction. It has been there since many years and the developers of TuneUp Utilities know what makes Windows sluggish better than anyone. But, same old cleaning methods may not work on every new version of Windows, because Microsoft introduces, optimizes and removes many modules on every new release. Hence, old cleaning methods may become obsolete overtime. Knowing this fact, the developers of TuneUp Utilities have been adding new features to keep its cleaning methods up-to-date. Now, this software features more than 30 system optimization tools, making it the Swiss Army Knife of your PC. Previously we've briefly reviewed TuneUp Utilities 2012 and now it is time to have a closer look at it.
Post Installation :-
After installation, TuneUp utilities offers to check for the latest updates and download them.
It also opens one click optimization, to speed up your pc. You can either proceed with it or open the start center to discover Tuneup.
Start Center:-
The start center is your central place for managing various components of tune up utilities.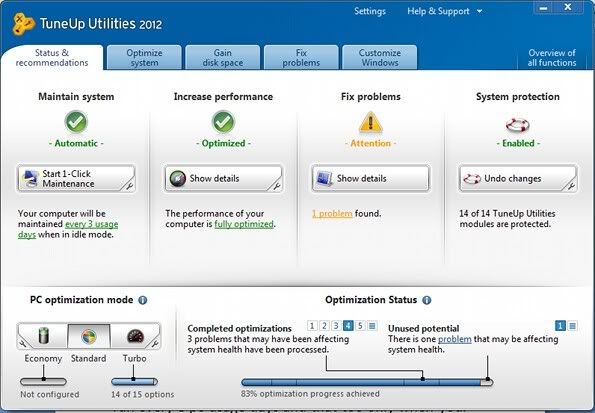 The interface is very simple to use and has pleasing blue top bar. The start center is divided into various tabs.
1. Status and Recommendation:-
This tab contains a link to change the settings of one click maintenance. This will run every 3 pc usage days and that too only when your pc is idle so that your other activities remain unaffected. After auto maintenance is over tune up will show a popup with the errors found and rectified.
When you click on the increase performance button you will be presented with a box asking you a few questions. Once this profile is filed up, Tuneup will suggest personalized recommendations to speed up your pc. The recommendations range from Hardware to removal of not needed softwares and also optimizing your visual effects and internet speed as per your profile.
Note:- Your Image may vary as my PC is fully optimized.
This fix problems component scans devices, your hard disk, windows settings and security settings and shows you problems found. For eg:- It will ask you to turn off Administrative shares and remote registry. This is good as it increases your security level.
2. Optimize System Tab:-
Here there are various tools you could use to boost system health. There is the registry cleaner which scrubs your registry of invalid entries. There is a software remover. You can also defragment your hard disk and registry from here. There are various modes of defragmentation like quick, thorough etc. Registry defragmentation needs a reboot.
The optimize system startup as per your settings will ask to disable un-needed windows services. For e.g.:- It will ask to disable IPsec and cryptography services if you are not using them. There is also TuneUp's startup manger which allows you to disable softwares which automatically run on startup.
The great thing about this tool is that it evaluates a software and says whether it's necessary or not. IT also has a rating function which is also applicable to the software uninstaller. The rating function helps you decide the usefulness of the software. Such an eye for detail improves the usefulness and the ease of use of the software.
Tuneup Program Deactivator:- This one of the new features in the 2012 version and the one I personally love. Tune Up program deactivator measures how much impact and load does an application put on your system and asks you if you want to deactivate it. So whats so great here?. The greatest aspect is that the program remains deactivated until you start it. Once you are over with it and you close it, the program gets deactivated. The tune up rating feature is also present helping you to make decision. Once the program is slated to be disabled its disabled as soon as your pc is idle. Also Tune Up will list certain important applications like your Anti Virus as cannot be disabled. IT also categorizes the application on the basis of their impact.
3. Gain disk space:-
It allows you to clean your system of temporary files. Securely Erase data also allows you to erase data in such a way that it cannot be recovered.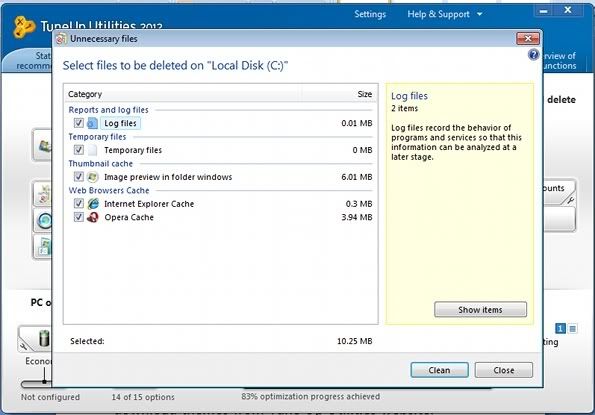 Tune up utilities also has its own task manager with rating function. You can also choose to replace Windows Taskmanger with Tuneup's from the settings.
The last two tabs help you fix common problems and give access to common settings. You can also use TuneUpstyler to customize your pc. You can also download themes from Tune Up Utilities website.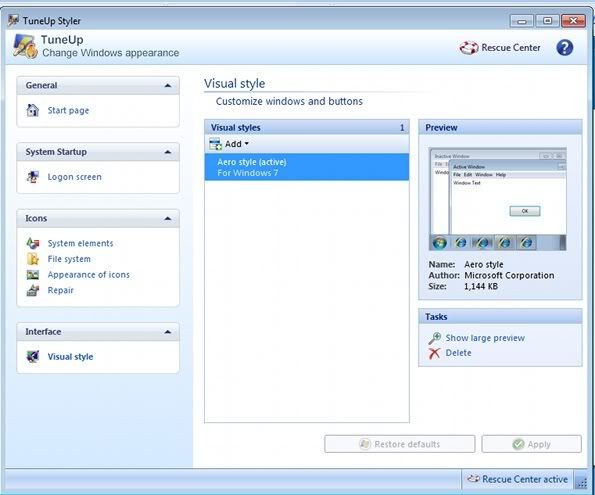 4. PC Optimization mode:-
Tune up has 3 modes of pc usage.
1. Economy mode helps you conserve batter life by disabling un-needed services changing your power plan etc.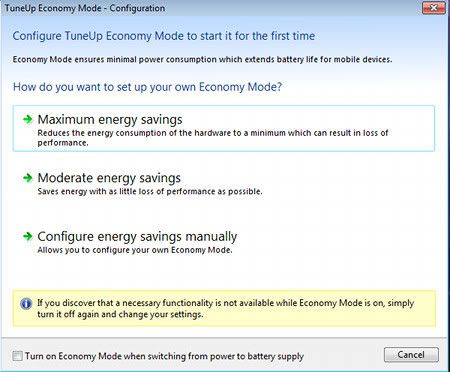 2. Standard is the normal mode of operation.
3.  Turbo Mode:- This mode extracts the maximum performance from your pc. You can configure the modes by clicking the small spanner icon.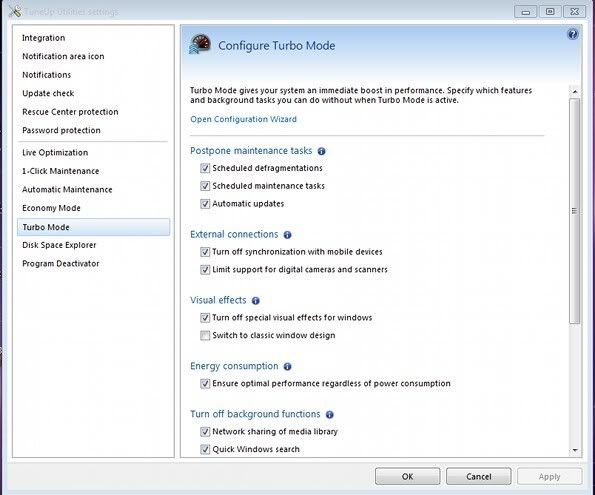 The bar in the bottom part of the screen shows the optimization progress achieved.
There is also the rescue center which allows you to undo any action done by tune up utilities. By default it is on and protects all the modules. You can configure what modules you want protected through the settings menu.
Support:- Tune up provides a detailed help manual and online FAQ's. In case you have a problem you can contact them through written form or through telephone.
Conclusion:-Tune up is in fact a great product. I have used their 2010 and 2011 versions too and these products have always improved my PC's performance and stability. I used to keep trying other products but I used to always end up coming back to TuneUp. The 2012 version has made great improvements. This is one product which is worth every cent you pay.
Giveaway :
Thanks to Sussane Di Cappillo for giving us 20 licenses of TuneUp Utilities 2012. Each license key can be installed on upto 3 PCs. So, if you are interested to win TuneUp Utilities 2012 then fulfill the following :
Do anyone of the following (which ever is convenient to you) :
Leave a comment below telling us why you need TuneUp Utilities 2012.
Winners will be announced here on 11th July.
Winners :
Congrats to the following winners :
License keys will be sent to you immediately.