File compression is widely used by all of us and many times, we come across compressed files (.rar, .zip, .7z…) in our day-to-day computing life. WinRAR is a popular file archiver and it's the one of the very few softwares that I install immediately after installing Windows. WinRAR has many useful and interesting features, so without wasting any time let us see what they are.
Overview of WinRAR :
The interface of WinRAR is easy-to-use. As you can see in the picture above, main functions of WinRAR are listed in form of icons for easy access and below the icons list is the area which can be used to explore directories just like Windows Explorer. Also, it is well-integrated into the right-click context menu. Important functions like archive creation and extraction can be accessed right from the context menu itself.
The interface is not only easy-to-use but is also flexible. Take a look at the above picture. WinRAR gives you more options when we explore compressed files. Options like Virus Scan, Protect, SFX etc will be enabled while exploring compressed files. Let us see what these options do :
Virus Scan : Now, when we click on Virus Scan, WinRAR will detect your antivirus and will also fill options (like path to virus scanner) automatically. If your antivirus isn't detected automatically then you can manually give those details to WinRAR.
Protect : When you protect an archive, WinRAR will create recovery record and will add it to the archive. So, whenever the archive gets corrupted, WinRAR will use the recovery record to bring back the archive to original state.
SFX (Self Extracting Archives) : Usually, archives can only be extracted by softwares. But, what if we want to extract archives on a computer that doesn't have any archiving software? That's where Self Extracting Archives (SFX) come into play. An SFX file is an archive with executable module, and when you run the exe file, it'll start extracting the archive and no additional software is needed.
Other features of WinRAR :
Test and repair archives.
Convert archives of different format into RAR.
Split archives according to user-defined size.
Lock archives to prevent modifications.
Password protect archives.
Tweaking WinRAR :
WinRAR is very powerful archiver, but you have to tweak it to see it's full power. Here is one useful tip to get high compression ratio.
Tweak to get High Compression ratio :
Before compressing files, make sure you choose the Best compression method. Secondly, tick the checkbox that says Create solid archive and then create the archive.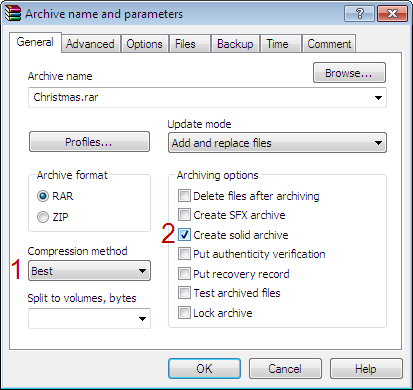 By changing these two things, you'll get high compression ratio.
Results :
I've tested above tweak on few files and the results in the image below.
Here is simple tabular comparison.
| File Type | Original Size | Compressed Size |
| --- | --- | --- |
| MP3 | 9.75 MB | 9.58 MB |
| MP4 | 71 MB | 53.8 MB |
| VMDK (Virtual Machine Disk) | 2.12 GB | 0.914 GB |
WinRAR compression differs from one file format to another. Some can be compressed a lot and others can't be compressed much and the above results just reflect that. Also, note that it takes time to compress with high compression ratio.
Conclusion :
WinRAR is solid file archiver. It supports extraction of many types of archives (7z,ace,bz2,cab,iso,zip,tar,gz etc). Novices will find its interface easy-to-use and at the same time the command-line interface will satisfy the needs of expert users. Its powerful compression algorithm can compress any kind of file and can save your disk space. In simple words, it's the perfect archiving utility you ever need.
Download : WinRAR
Giveaway :
A big thanks to Violeta of WinRAR, for sponsoring 10 licenses. So, interested to grab this powerful archiver? Then do the following :
Do anyone of the following (which ever is convenient to you) :
Tell us what you like most in WinRAR, by leaving a comment below. Please use a valid Email ID while commenting.
Winners will be announced here on 29th December. All the best!

Winners :
Congratulations to the following winners :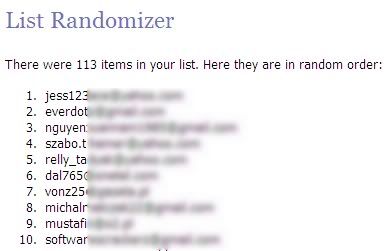 Winners will be contacted shortly via email for more details.