A photo editor is a must-have application for every computer user, from novice to professional photographer. We see huge variation (both price-wise and feature-wise) in photo editing applications, so as to satisfy the needs of different users. Xara Photo & Graphic Designer is one such photo editing application which satisfies the needs of both novices and professionals alike.
Interface :
The interface is very important for complex softwares like photo editing softwares, because there will be hundreds of functions which have to be arranged in clear and logical way so that the end user can finish the work quickly.
As you can see, the interface is logically designed. All the tools are arranged around the working area. Professionals who use Photoshop, GIMP etc will find the interface very simple and familiar even on the first-use. Whenever the user clicks on a tool for the first time, a small window will pop-up and will guide you on how to use that tool. This way, novices can quickly learn how to use Xara.
Tools :
Tools are the power of photo editing applications. Xara Photo & Graphic Designer has enough tools for experts to create stunning graphics and at the same time it even has the tools for normal users who just want to do basic photo editing like red eye removal, brightness adjustment, cropping etc.
All tools are aligned to the left side of interface. You'll find the usual tools like color fill tool, shape tools etc. At the same time you'll find some unique tools like Extrude tool that lets you create 3D text in a single click, Shadow tool, Transparency tool etc.
Other interesting features :
Xara Photo & Graphic Designer has some interesting features for webmasters and bloggers.
1. Export PSD to HTML :
There are many generous graphic designers who create free web templates in PSD format but we must convert them to HTML in order to apply that template to our website. But, PSD to HTML conversion isn't a simple task, and many companies charge $100 to $250 to convert PSD file to HTML. So, it's obvious that it is not a simple task. But, with Xara Photo & Graphic Designer, PSD to HTML conversion is just a click away!
2. FTP Integration :
Webmasters work quite a lot with photo editing applications for tasks like watermarking, resizing, and sometimes even to create a new logo. Once, the webmaster finishes his work, he can upload them to the server using the in-built FTP client.
Conclusion :
Usually, photo editing applications like Photoshop etc, need many resources. But, Xara Photo & Graphic Designer isn't very resource hungry, it's pretty fast even on my 1GB system. Also, it supports the most widely used PSD format (sometimes it doesn't support few effects etc, but still it'll render that PSD file). Product support is another very important criteria. It has an excellent offline Help file. Even online, you will find excellent video tutorials, very active community  forums etc,.
Whether you are a novice or a pro or a webmaster, Xara Photo & Graphic Designer is for you. So, download and try it today!
Download : Xara Photo & Graphic Designer [Web Installer (~93 MB)]
Giveaway :
A big thanks to the Nathan of MAGIX Software for sponsoring 5 licenses, to giveaway to our readers. If you are interested to grab this powerful photo editor & graphic designer software, then do the following :
Do anyone of the following (which ever is convenient to you) :
Tell us why you need Xara Photo & Graphic Designer, by leaving a comment below.
Winners will be selected randomly and will be declared here itself on 3rd February. All the best!

Winners :
Congratulations to the following winners :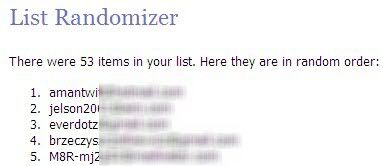 Winners will receive their licenses shortly.