99Colors – Online Tool To Add Special Effects To Your Photos
Many of us like to share photos with our friends, family etc. Before sharing photos, many of us add special effects to photos in order to make them look funny or to improve the quality of the photos. There are many softwares and online tools that lets you add special effects to photos. I personally prefer online tools, because many online tools are well integrated with social networks and photo sharing sites. So, you can edit photos and send them to desired website like Facebook, Flickr, Photobucket etc, on the fly. 99colors is one such online tool which is well integrated into Facebook. As the name suggest it offers a variety of effects and models pictures, ready to be applied.

Uploading photos to 99colors can be done in 3 different ways :
From your PC, by using drag and drop.
Import from your photo albums on Facebook.
Take picture using the webcam. If you are taking picture using webcam, then you need allow 99Colors to access your webcam, so that it can take a live screenshot. You can also take multiple pictures from your webcam and they keep onappearing on the screen. You can highlight any image and select a photo effect or image filter from the list provided at the bottom of the site.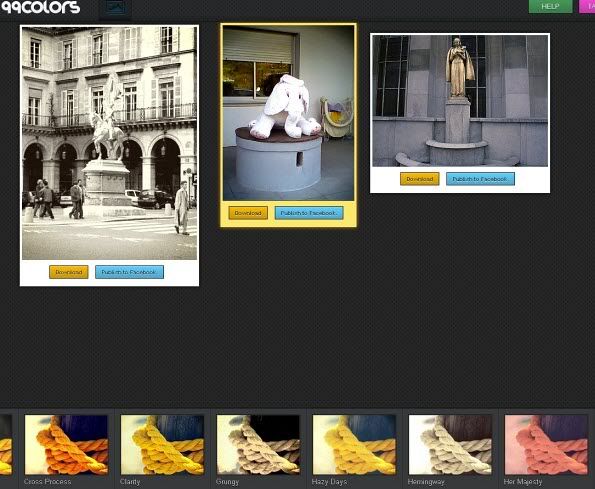 If you are uploading photos from your PC, then drag the image to 99colors. Once the photos are uploaded it will show the effects at the bottom. Just click on the effect you like and it will be applied to the photo. You can then download the picture (PNG) or post it on Facebook from 99colors itself.
Features of 99colors :
Online web service. No Installation required.
Provides many special effects like Glowing Sun, Clarity, Grungy, Cross Process, Vintage, Hazy Days, Hemingway…
Download images in PNG format.
Directly publish images to your Facebook account.
99Colors makes it very easy to modify the picture. No need to study on how to modify pictures, just upload and apply. Once your modified picture is ready, then share your masterpiece with your friends – just lean back and enjoy – they will be glad to find out that you become professional and they will contact you to find out the secrets in this art.
Visit : http://99colors.me/