Comodo Dragon vs Google Chrome [Updated!]
Last year, I published an article comparing Comodo Dragon and Google Chrome (link) when Comodo Dragon web browser was first released. Even today, many people read it. Thanks to Google. In this one year, Comodo Dragon (CD) has improved a lot and that article doesn't comply with the current version of CD. It reflects the early days of CD. But, as many people are still reading that article and the article doesn't hold good for the new version of CD, I decided to update the article so that the readers get correct and up-to-date information.
I'll be reviewing Comodo Dragon 12.2 which is based on Chromium 12.0.742.112 (which was released in June ending). It's apparent that Comodo Dragon runs on an out dated version. At the time of writing this article, current stable version of Google Chrome is 13.0.782.112. I don't blame Comodo for this. It's tough to catch up with Google's ultra frequent updates, but still they are doing good job in updating CD as often as possible. For most of the part, both CD and Chrome are almost most same, except for few features. Especially, for Privacy and security features.
Comodo Dragon offers better privacy and security over Google Chrome and we can read about it from CD's release notes.
Comodo Dragon Release Notes:

Comodo Dragon internet browser is based on the source code of Google Chrome browser but has a number of improvements, which includes fixes some privacy and security improvements.

1. ADDED Certificate Domain Validation checking warning

Comodo Dragon uses advanced domain validation technology originally developed in Comodo Verification Engine.  It performs additional analysis of a domain's SSL certificate to warn about those that been issued with Domain Only Validation.

2. FIXED Client identification number privacy issue.

Comodo Dragon fixes this privacy issues, which exists in Chrome browser. Chrome creates an ID for each client (user). This security gap theoretically can be used to identify a user. This ID has been removed.

3. REMOVED RLZ-Tracking capability.

RLZ-Tracking is a Chrome's feature which informs Google about when and where the browser has been downloaded. This capability has been removed in Dragon. This has been done to protect user privacy

4. Comodo's traditional product update technology is used.

Dragon uses Comodo's own installer and update technology. Chrome, on the other hand, checks for updates and makes update via Google Updater, legality of which was put under question by Red Bend Software. Google Updater was entirely eliminated in Dragon

5. REMOVED error reporting mechanism.

Error reporting is used by Google to find and remove problems in their software however the information, which is sent to Google,  includes some data about the computer's software. In case it this information is intercepted by an attacker, it can be used to reveal vulnerabilities in the computer's security system. Comodo Dragon has eliminated this mechanism is order not to compromise user's security and privacy.

6. REMOVED installation time-tracking.

Comodo's installation technology doesn't use and store information about when the software was installed and updated, all actions are based only on your current version number, whereas Chrome installation stores detailed (up to the second) information about software installation time

7. ADDED smart software removal

During software remove Dragon asks user whether he or she wants to keep user preferences data (home page, search engine customizing, etc) and leaves or removes user profile based on his or her choice. This is done for user's convenience. Leaving user's profile on your computer is recommended if you are going to return to using Dragon in future

8. EXCLUDED remote error pages usage

Dragon uses locally stored error messages (such as "Page not found"), whereas Chrome in its default configuration uses server-stored error messages. In Dragon information about your network input errors is limited to your browser instead of being sent to Google's remote server.

-via Comodo Forum
Apart from above differences, I observed few more notable differences.
1. Portable installation :
Comodo Dragon offers an option to install it on USB drives through its installer. This comes very handy if you want to take the browser along with your favorites etc on USB.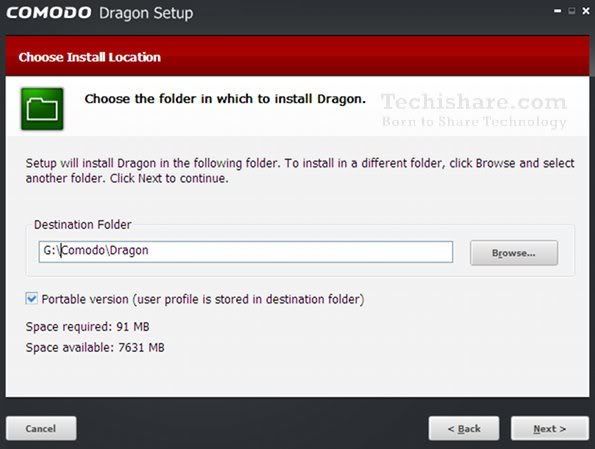 In order to make CD portable, point the installation directory to the removable USB drive. Once the installation is finished, CD is ready to be carried on your USB drive.
2. Better Privacy Control :
As you've read above CD offers better Privacy. It won't send usage statistics and crash reports to Google (read above quoted release notes for more info). Along with Google's malware protection it comes with additional security layer i.e. Comodo Secure DNS. You can choose to install Comodo Secure DNS at the time of installation. You can either set your computer DNS to Comodo Secure DNS servers, so that all applications use it or else you can just opt to use it only for Comodo Dragon.
Apart from these features, CD comes with its own features like
Always start your browsing session with incognito mode.
Implementation of Do Not Track feature (which isn't implemented in Google, but can be added to Chrome via Keep My Opt-Outs extension)
Clear history and Cookies on exit. Chrome has this feature of cleaning cookies on exit. But it doesn't have clear history on exit.
The current version of Comodo Dragon supports all extensions and has all the features of Chrome. It has the correct balance of flexibility and security and it is better than Chrome when it comes to privacy issues. So, if privacy is your major concern then use Comodo Dragon.
Download : Comodo Dragon
P.S : Due to strict security settings on Comodo Dragon, especially regarding sites which use SSL, they don't work as expected on Comodo Dragon. Some plugins like WOT doesn't work on Comodo Dragon and for those who desperately need WOT ratings on Comodo Dragon can use other plugins like Webutation. Webutation uses different services (including WOT) to rate websites and Webutation works well with Comodo Dragon.