Create Free Professional Radio Station With Spreaker [Giveaway 40]
Spreaker is an audio platform with which you can create your own radio station for free, in a professional way. With Spreaker  recording and broadcasting of episodes is much simpler. You don't need any high-end equipment anymore, all you need is an account at Spreaker.
After creating and account and logging into Spreaker, you'll be greeted with a simple interface. You can either choose to broadcast from here or else listen to other radio stations by browsing through categories.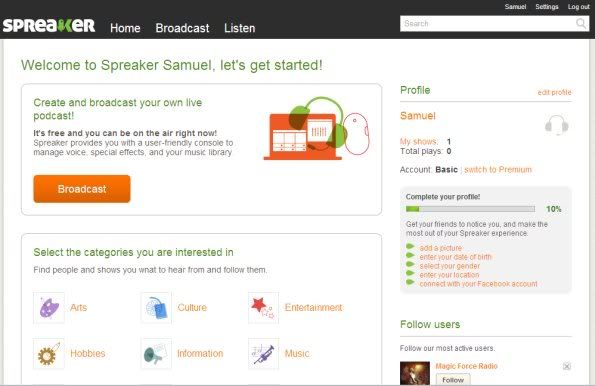 Broadcasting with spreaker is pretty straightforward and you use a virtual recording studio called Deejay Console  (Adobe Flash Player is required)  to record episodes. With Deejay Console you can broadcast your sessions live, or else record your session and broadcast later.
This Deejay Console comes with lots of options.
You can control volume.
Play background music, while you speak.
Play songs in between your talk using playlists etc
It's much like a professional radio station. The good thing about Spreaker is that, it not just creates a station, it even helps you publicize your station. If you have Facebook account, the updates will be posted on the wall, as spreaker comes with Facebook integration. You can chat with your listeners or talk to them via Skype from Spreaker itself and thus improves user engagement.
Spreaker comes in 3 different packages and you can see their comparison below :
Start with the free plan and upgrade to any of the paid plan based on your requirement.
Giveaway :
Thanks to Anna of Spreaker for giving us 30 1-month platinum plan packages, each worth $49.90.
In order to win 1 month platinum, you need to create a free account at Spreaker.com. After creating free account at Spreaker, leave a comment below. Please make sure to use same Email ID to create an account and to leave a comment.
Winners will be selected on First-Come-First-Serve basis.