Two things that constantly change on my computer are, one, security setup in Windows (Antivirus + Firewall) and the second one is Linux. Every now and then, some or the other antivirus or linux distro will be released and I download them to see new features etc. Recently Fedora 16 was released and as usual I downloaded it. Using SARDU I was copying the ISO image of Fedora to my USB flash drive, in order to try Fedora. As the copying was in process an error popped up suddenly and my USB flash drive got corrupted. Windows said that my flash drive is unformatted and suggested me to format it. So, I tried to format it, but Windows failed to format it, saying :
When I clicked on OK. It popped up another window saying :
So, I rechecked if the flash drive is properly connected or not and it was properly connected. As, I have EaseUs partition master with me, I ran it to see if it can help me. And to my surprise, EaseUs partition master has displayed the capacity/size of my flash drive. Whereas, Windows was not even able to display the capacity of the flash drive. It just said Unknown Capacity. Not only that, EaseUs also displayed that no file system was allocated to the flash drive and that's the reason why Windows was failing to format the USB flash drive.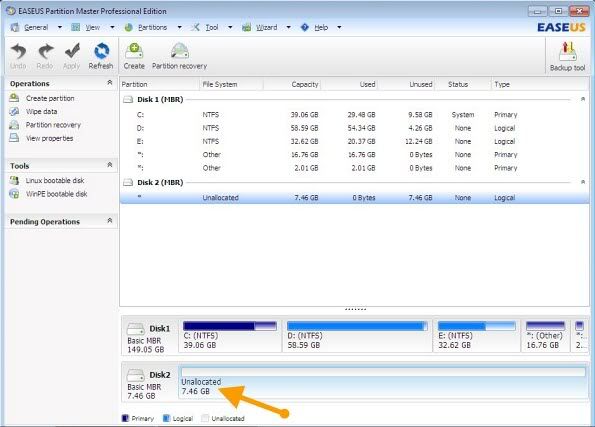 So, I went ahead with EaseUs partition master and right clicked on the my USB drive (Disk2) in EPM interface and selected Create partition. A new window opened and asked me to give more details like the name of flash drive, File system etc.
So, I specified the required details and clicked OK. After this you need to click on Apply button to apply the changes/operations.
That's it. Now, Windows has detected my USB flash drive correctly and now I can test my Fedora 16. It's obvious that EaseUs partition master is superior to Windows and surely it'll come handy in fixing issues like this. Another tool that helps you in these kind of situations is HP USB Disk Storage Format Tool.
Download : EaseUs Partition Master , HP USB Disk Storage Format Tool