Fastun – Improves Browsing Speed and Saves Bandwidth on Firefox and Opera
Despite of being on slow internet connections, many of us try to increase the internet speed. We try many things to increase internet speed. Like changing registry settings, using internet optimization softwares and some people go even further and try hacks that are available on internet. Anyway, most of those hacks won't work. When I was on a slow connection, I tried many things like that and I'm sure many of you had tried them too. But, the hardest truth is that you'll never cross the speed limited by your ISP. But, still you can increase your browsing speed by making use of web services like Opera Turbo etc. I really wanted a service like Opera Turbo for Firefox, but didn't find one. So, I searched internet a lot to find such service for Firefox and at last I was successful. It's called fasTun and it brings Opera Turbo like features to Firefox.
fasTun, is a web accelerating service for Firefox and Opera. Features of fasTun :
Compress HTTP traffic using the GZIP algorithm
Optimize web pages code (HTTP/CSS), thus reducing their size
Compress images in PNG, GIF and JPEG formats with a feature of quality choice
In order to use fasTun you have to register for an account. You can either register for free or premium account. Differences between free and premium accounts are as follows :
fasTun is available as an addon for Firefox. Once you install fasTun addon, you can activate fasTun by clicking on "T" icon in the addon bar. You can also change the level of compression from the Settings tab of your fasTun account.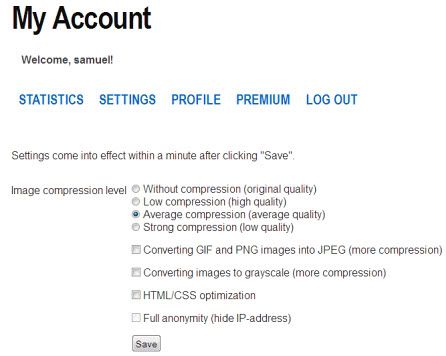 Now let us see by how much percentage can fasTun compress. I tested fasTun on our website. The actual size of our website is 394.4 KB.
After enabling fasTun, the size was reduced to 58% i.e. 229.7KB. So, after compression the size was reduced by 164.7 KB!
The amount of size reduced by fasTun is remarkable. fasTun is not just for people who are on slow internet connections, it also for those who are on limited bandwidth plans and are afraid of the penalty for crossing those limits. So, what are you waiting for? Speed up your browsing speed by using fasTun. Click here to register for a free account.