Google+ vs Facebook
Much awaited Google+ has been released quite successfully with lot of people asking for the invites. Even though it took me long enough to get an invite, now that I got one so lets go through a brief overview of  Google +. With a word from google that it has got jam-packed with lots of exciting features that could blow up your mind. On looks it could be a white twin of  facebook and if you are a facebook user you wouldn't need much time to get aquainted to Google+. As a full time facebook user I don't find much differences between them.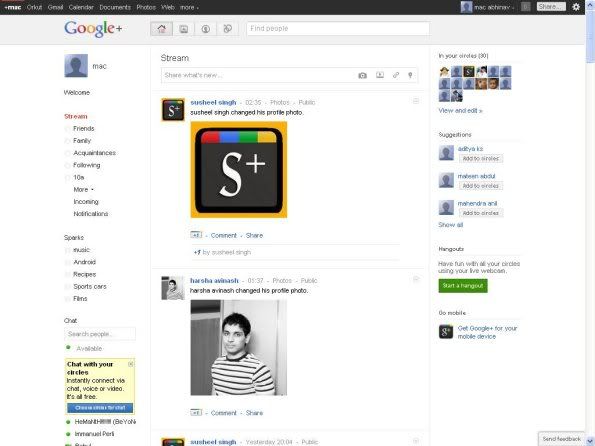 It has  got almost the same features like
share – to share photos,videos,links and

even places in Google+

comment – To comment on the shares,links, photos posted by your friends
+1(like) – It is just like the like button that we have in Facbook . Click to add a +1 and another click to remove a plus one.
stream – like Wall in facebook where the actual sharing takes place. All the updates from your friends and family go into this block.
sparks – It gives the content that we are interested in. We select some interests like say music and it gives music related content. On comparision with facebook  I would say this is something between interests and fan pages.
circles – Circles is an area where you can place your friends in order. To know how they are related to you.  If you need all your school friends in a circle then you can just create a circle named Schoolbuddies and add all your school buddies into that particular circle .  In facebook we've got friends list.
text chat : and you have the age old text chat in the left bottom bar
Friends suggestions – similar to facebook right side bar and option to add to a circle.
photos : This is similar to the facebook photos tab but the comment section has been arranged on the right side as a bar  and looks much better than facebook's. All the photos could be seen as thumbnails at the bottom.
Other features include
hangout – its like a  chat window, it has got many more features other than just text chat like voice, cam and you can add up the people who you want to talk to, which gives us with group chat and all the updates are shown to every one.
blackbar – This is a bar that stays on the top  allowing you access to the  various other services of google like gmail, orkut, photos etc. The bar even gives you notifications allowing you to work on your google's other services and still get them while working. This also allows quick posting like comments, replies in the bar it self.
Similarities apart Google+ has been designed using Google plus API packed with HTML-5 and CSS-3. One thing to say is that Google + has brought facebook up and going to match up with Google +. If you are an active user of facebook then you might have noticed some changes that were made and reverted back to the normal facebook recently. Changes noticed were
Fixed scrollable wall post
Fixed left bar
Scrollable right bar with posts
After few minutes
no right bar
no friends list, no groups, no apps links in the left bar
left bar with its own copyright and privacy links etc.
Maybe these would be edited to make facebook come close to Google+. After Zukerberg's comment of giving something amazing from facebook is holding peoples' hopes on facebook to come up with something new. Lets wait to see if the comment made by him comes to reality or it is just a word that slipped out in frustration.