I primarily use Firefox to browse. Whenever I come across a good blog or website I subscribe to it by using Firefox's Live Bookmarks. With Live Bookmarks you can know if  new content is published or not, without actually going to the website. But, it'll be better if Firefox provides a way to read those new articles without going to those websites! Anyway, Firefox don't have that feature yet, whereas Opera does. If you are using Opera then you can make use of Opera's in-built feed reader (using Opera Mail) to read all the latest articles at one place.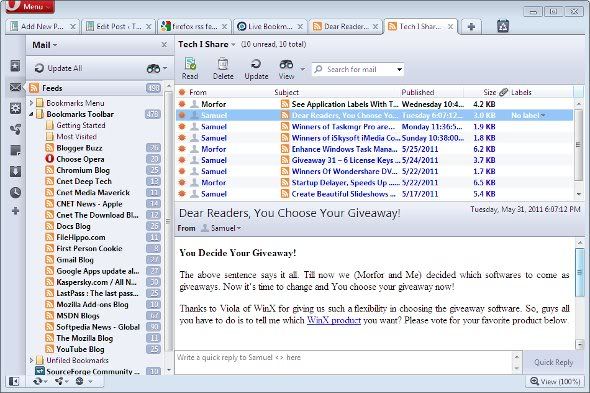 In order to use Opera as feed reader, I need to import RSS feeds from Firefox. By default there is no way to achieve this. But thanks to OPML Support Addon. With this addon you can export RSS feeds from Firefox. Here is a step-by-step guide to export RSS feeds from Firefox to Opera.
I. Exporting RSS feeds from Firefox as OPML file
Open Firefox and install OPML Support addon.
Now open Firefox's Library. You can do this by clicking Firefox Menu Button and then hover on

Bookmarks

and then click on

Show All Bookmarks

.
In Firefox Library, click on

OPML Support

button and then select

Export OPML

.
In the next window click OK and then choose a directory to store .OPML file.
II. Importing RSS feeds into Opera
Click on Opera Menu Button and then

Settings

and then

Import and Export

and the click on

Import Feed List

.
Now browse to the folder in which you've previously saved .OPML file. Select it and then click

Open

.
Now Opera will import those RSS feeds.
In this way you can export RSS feeds from Firefox to Opera.
P.S. Few years back Mozilla released an addon called Snowl, which works similar to Opera's feed reader. Unfortunately, that project is now inactive 🙁