Should I look outside from the window to find out if its raining, snowing or if it's a well shinny day? The answer will be to check first YoWindow. This is a weather forecast program that aims to make reading/watching the weather forecast more enjoyable. Why is that because YoWindow is a kind of live weather application that changes the display in according weather modification and will get the picture of what's the status out there anywhere in the world. It has a real time animation, you will see cloud cover, rain, fog, thunderstorms and snow… Plus real temperature, wind, pressure, visibility, humidity and more.
YoWindow is a desktop weather monitoring software and thus contains all the necessary weather parameters. It comes in free and paid versions. The limitations for the free version are the number of cities (2) and the forecast (3 days). So with the free version, one will visually figure out what will happen in the next three days. Move the timeline on top to check how weather conditions change as hours go by and also see beautiful sunsets and dawn. Both versions can act as desktop screensaver too.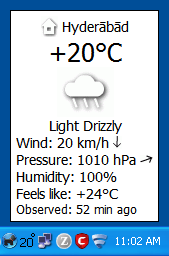 Installation is easy and no reboot is required. Once the application is launched then it will automatically selects your home location. After adding the main location the software will download the weather data for that location and display accordingly. The application will minimize to systray and will start with windows automatically, it displays the real outside temperature, hovering on the systray icon with the mouse then a small window will pop up giving more details.
Weather forecast data are provided by one of the following organizations, depending on selected location and program settings :
yr.no, the forecast is delivered by the Norwegian Meteorological Institute and the NRK
NWS – National Weather Service
You can also connect YoWindow with your Weather Station. Go to help section and find out more.
The options menu offers further controls, including location management, forecast, display, inspector panel, screensaver. Some people are used to Fahrenheit and some to Celsius, so you can choose your own settings from options. By default all animations are shown on a village landscape, but you are allowed to import your own image. The maximum supported picture width and height is 2880 pixels (To do this goto: Landscape => Landscape pictures => Add;  JPG/JPEG, PNG and GIF are supported).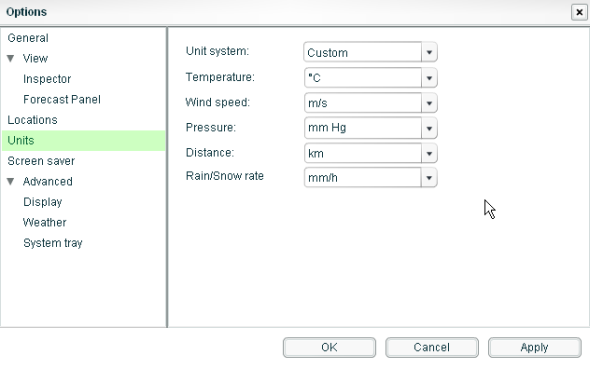 Features of YoWindow :
Total weather control.
Watch weather forecast exactly at the time you need.
Current temperature beside the system clock.
Personal weather station support
If you spend most of the time in front of your computer, then this application can be a very useful one. Next time before looking out from the window to check the weather, think of YoWindow.
Download : YoWindow
Note : Norton may give you a warning while you are installing YoWindow. Just ignore it, because Norton Insight is not actually warning you about a detection, but about a possible risk. YoWindow is clean, so no risk at all in installing it.