Sometimes when we send emails we forget to add phone number, home/office address and some useful info, well now all those things can be the past if one  download and install WiseStamp. In fact this is very handy to set Personal or Business signatures and one can choose insert automatically signature into emails or have to uncheck the required box to not add it automatically.  Now its possible to create unique signatures.  You customize your Gmail signature with HTML as well as share blog posts, social profiles (IM Services, LinkedIn, Facebook, del.icio.us and many more), images and more.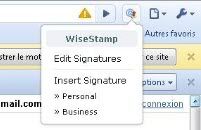 Downloading and installing the plug-in is as easy as can be, all you do is go to the WiseStamp website and click on the add-on. Once you install the add-on, you will see a WiseStamp icon on the top left Gmail  screen. Depending on the chosen browser the installation is different.  In order to be able to install a Chrome extension, you will need to update to a compatible "extension enabled" chrome version, Select and update your Chrome for-  Windows , Linux or Mac .
Following there are 5 first Steps with WiseStamp for Chrome:
locate and Click on the WiseStamp icon on the top of your chrome browser.
Refresh your Gmail by clicking on the Chrome refresh arrow.
Design and customize your signature.
Add your IM, social services to each signature.
Click "Apply" and "ok" to close the signature editor window
Then In the 'General' tab choose your signature and click on the 'set as default' link this will set it as your default signature.
After Chrome refreshing then one can start filling the blanks in order to make a well defined signature. Filling is easy as one is used to write emails, as one can see, there's a rich editor that lets you do all kinds of things like format your text, add images, insert tables, insert HTML and more. If you want to add an image or logo from your computer you will have to upload it first to an online photo service such as Flickr or Picasa Web albums and then add the online picture to your signature. Go to the WiseStamp editor (see 'how to') & click on the 'insert image' icon and paste the image location link. Now the signature is ready to be used.
You can also make the signature be displayed at any position. Doing this is simple, but comes in a few stages:
Erase the signature from the body of the message
Place your cursor on the correct position
Click the WiseStamp icon (on the webmail editor / Chrome browser) and choose the signature you wish to insert
Features of wisestamp :
Use multiple email signatures (Business and Personal)
Add your personal feeds (rss) and your logo or image to your signature
Automatically insert your signature to your webmail services
Easily link to all of your Social profiles & Services + Icons
Manually add your signature at mouse cursor location
Works with Gmail, Google App's, Yahoo! Mail, Hotmail, AOL and more…
Option to treat each signature as HTML
Add your personal signature to any online Html supported page (Google Docs…etc)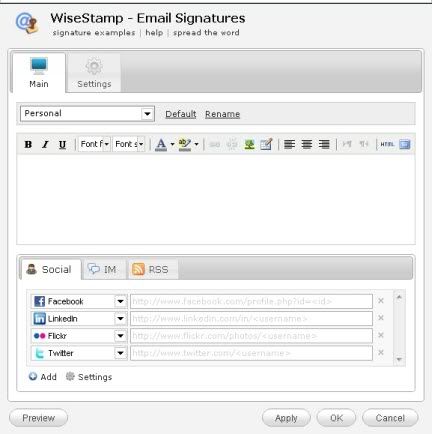 WiseStamp also offers other possibilities such as promoting  own blogs and personal websites. There's also a place to add URLs to your social profiles, IM usernames and even RSS feeds. So be professional and go ahead install WISESTAMP.
Download : Wisestamp