SemYOU is a free web operating system developed on Microsoft's Silverlight technology. It provides the most important functions like office, entertainment and communication functions, through free cloud computing applications. With such a large number of free applications, all tasks can be completed easily over the internet through cloud computing — without installation, from any computer in the world. It works in every browser like Internet Explorer, Firefox, Opera or Google Chrome without any installation and supports Windows, Mac and Linux. Optionally, individual SemYou applications can also be called up directly via the local desktop. All SemYou applications have also been optimized for tablet PCs with touchscreen controls.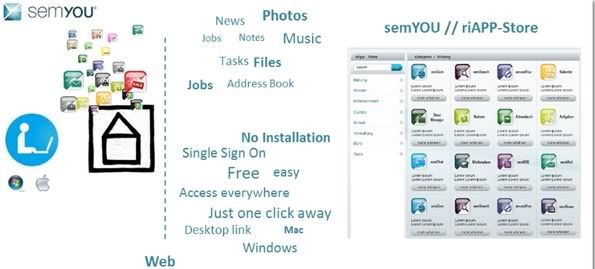 Software applications developed by SemYou are available via their riAPP store. Some of them are free but there are other options available which will allow users to buy or lease software via the riAPP store. SemYOU and its riAPPs offer many advantages including office use, reading emails(SemMail), sharing vacation photos(SemPhoto) and music(SemTunes) with friends or searching for apartments (SemHouse) or jobs(SemJob). Suppose you are in an internet café and would like to shape an early collaboration idea, a single click will take you to the SemYou/riAPP store, where you can find a riAPP named SemMindMap that you can use it for free.
After returning home/office, the work can be reopened and examined better. Another example, once some outside photos are taken then it is simple to upload to SemYou via SemPhoto, this has the same power as a locally installed application but with much greater functionality. You can manage or share photos with friends. The built-in sharing function even lets you post photos on other systems. Also a link can be created to the application (SemMindMap, SemPhoto…) in order to call the application directly, this can be done from option INSTAL in the drop down menu of File.
SemYou is simply your online hard drive.  SemDrive is like Windows Explorer for managing files, SemDrive lets you save and manage your local files online. Whether they are documents files, music, videos or photos, SemDrive gives you access to all of your files, and has a synchronization feature. When you install the FileExplorer, a SemYou toolbar is also installed in all Microsoft Office products, allowing you to edit Office files directly from SemYou. This integration lets you save office documents directly to SemYou or edit documents saved within SemYou. Concerning time management so companies can be interested in is that SemTimer lets you calculate the amount of time you spend on work so creating your own time sheets will be easy.
Other riAPPs include, SemTunes and SemMail. SemTunes, streams music online. You can create playlists and manage, listen to your music everywhere. Music is uploaded through an assistant. Simply start the assistant, select locally stored music and click "Upload. After the upload is complete, the song will be displayed directly on the main screen.
SemMail is similar to known email programs and therefore enables you to start right away. An assistant [wizard] guides you through the first steps when setting up your email accounts. SemMail has a clearly arranged tab design thus Management of multiple email accounts will be easy.
Thanks to its app store with more than 40 different ad-free applications makes buying software unnecessary.  So get your free registration here and enjoy cloud desktop.