Test Internet With MyConnection PC and VisualRoute
Testing internet connection is an exercise that some pc users do it on regular base especially those who pays a quite big sum to obtain a speedy internet connection and if they experience a slow connection then  testing will be needed in order to measure the speed and to identify where is the problem. There are some sharewares over the internet that after testing they provide some fixing options in a 1-click manner.
Those who runs towards freewares then MyConnection PC and VisualRoute can be an effective tools to test, determine and to solve connection problems. Those two software are available in free  lite version with  limited functions and also in several other versions which are offered as a shareware.
MyConnection PC Lite :
MyConnection PC Lite (formerly MySpeed PC Lite) lets you test and analyze your Internet connection bandwidth and produces a report of download, upload speeds and connection quality. Measures your Internet connection to speed test servers in the US or UK.  The result is easy to understand and is presented with a colorful graph, that displays your speed in relation to various connectivity types. Graphical reports illustrate how the download speed fluctuated during the speed test.

Advance shareware versions  unlock other important features that the lite do not permit, such as VOIP Quality (measures both jitter and packet loss, and rates your connection for voice quality),  RouteSpeed, ForcedIdle, Time Variation…. view results of all tests to see how your connection speeds and quality vary over time, export data and email option.
For different versions features and downloads checkout MyConnection PC.
VisualRoute :
VisualRoute helps determine if a connectivity problem is due to an ISP, the Internet, or the web site you  are trying to reach, and pinpoints the network where a problem occurs. VisualRoute Lite Edition is free for home users to test their Internet connectivity.  In order to use this option VisualRoute should be downloaded and  installed.
Get an instant analysis of your Internet connection performance
Locate the source of poor network response time (or latency), poor connection quality caused by packet loss, and identify the ISP responsible
Determine if slow performance is due to your ISP or a problem on the Internet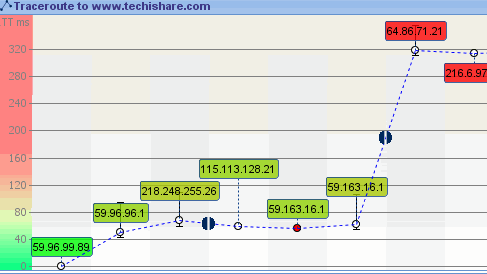 To test your connection, enter the IP address or host name. Then check the Internet performance and  see your connection path on a world map; identify bottlenecks, packet loss, and latency. VisualRoute generates complete Ping and Whois information with time graphs, which administrators can export to text or HTML reports, or to a JPEG screenshot. The analysis section explains in plain English what's going wrong in the trace.
Download : VisualRoute
If you are looking for a program that consumes much less system memory and do not affect pc performance in any way then download both free versions and find out if they are suitable for you. The aim will be to help to optimize Internet connection speed (in free lite version) by determining causes and by applying several tweaks that will help you get the most out of your subscription package.