Would you like to organize your daily to-do task management? If the answer is YES then try Doit.im. Doit.im is available on web, Windows, iPhone, iPad and Android. So where ever you are you'll still be able to collaborate on your group project and get informed about progression and thus increase the productivity. The great thing is that Doit.im syncs with the server which means if you work from multiple PC then all the data will be synced and get updated with cloud. An offline mode is also available, new data will be synchronized when connected online.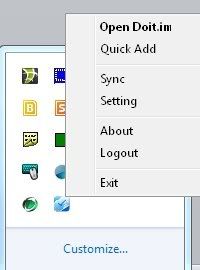 So, let us start with Doit.im. First of all register for a free account at Doit.im using this link. Then install the desktop application and then sign a web user account so that your desktop work will be synced to the web and available for further collaboration with your colleagues. After opening the desktop part of Doit.im right click on Doit.im systray icon and choose Setting. There you have many options and it's possible to auto-start the Doit.im with Windows and auto-login, plus choose Sync frequency and also customize Shortcuts for Open Doit.im, Quick Add Tasks and Sync.
Most actions are in the vertical menu on the left, where you have different tabs.
Inbox: Where you will add tasks quickly, each of which can receive tags, note, date calendar, rehearsal time, etc..
Today, If you set the Start time to today, the task will come to Today box directly.
Next: You can read the next actions to take based on the priorities given to each, the moment of the day…
Tomorrow: the actions of the Tomorrow
Scheduled: All to-dos with Start time later than tomorrow, including repeated ones, appear in Scheduled.
Someday:  Actions not yet specified a date
Waiting for: For tasks of Mine, Start time not set; for tasks Sent to others, Start time showing the one set when the task was sent, and unable to be changed.
Projects: List your current projects
Quickly collect all your thoughts in the Inbox and then set them to the right Time Box. On the main interface choose Today and click on the Plus sign located on the bottom left of the window. Enter Title, to Organize click on Today and choose the most appropriate action, then get the note, choose a deadline for reply, customize with Context (Home, Office, Phone…) then click on below empty space to create first task.
The two main areas of work of the application are managing todo-list and management of projects, coupled with a contact list, so it is naturally possible to work in groups on a project and keep all members informed of progress of each real-time (as data is updated on the remote server).
Features of Doit.im :
Create an organized schedule
Manage and build to do lists to get things done better
Doit.IM for Windows, Linux, iPad,  or Android mobile devices
Add tags to items and reference them later using the tag
Set reminders that are received via email
Option to sync with Google Calendar
Contact Mode: After you add a contact and he/she passes your contact application, you can forward tasks to each other.
Calendar Mode:  Present your tasks to do or completed in Doit.im calendar. You can add, view, edit, complete and delete tasks under Calendar Mode.
Archiver Mode:  Tasks completed 30 days ago will be archived automatically. The mode is now supported just in web version
Firefox add-on 

https://addons.mozilla.org/en-US/firefox/addon/doitim-46608/
Doit.im is useful app with a clean and simple UI, If you like this kind of tool then Doit.im deserves a look, especially since it is free. So, start using doit for better collaboration and productivity especially when you are working in groups. Create your free account using the link below.