How to – Install Irfanview on Ubuntu 9
Update : Get the latest tutorial on how to install Irfanview on Ubuntu 9.10, Karmic Koala. The tutorial is here.
Irfanview is an essential software for people like me. Irfanview provides a lot of features and allows advanced editing of your photos. As a blogger it is the most essential software to me. When I post an article with image then I use this Irfanview. With Irfanview you can watermark your photos, crop a part of photo and use it and much more features make it a superb photo editor. Unfortunately Irfanview is only for Windows, we can't use it on Mac or Linux distros. But thanks to WINE, it installs Irfanview on Ubuntu. In this tutorial you'll see how to install Irfanview on Ubuntu.
Requirements :
I assume that you have WINE installed on your Ubuntu. If not follow the steps below to install Wine. Fireup (open) your terminal type the following and hit enter.
sudo apt-get install wine
Wine will be downloaded and installed now. Make sure that you are connected to internet.
Steps to install Irfanview :
1. Download Irfanview from here.
2. You have install a script called Winetricks. This winetricks script lets you download the most widely used dll files of Windows for use on Linux. We need mfc42.dll to install Irfanview successfully. Download Winetricks from here. (Right click on the link and use save-as to download the script)
3. Copy and paste the file onto your home directory. In my case it is /home/samuel.
4. Now type
sh /home/samuel/winetricks
and hit enter
5. This opens a pop-up dialog box like the one below.
Scroll down to select mfc42 and comctl32 and click OK. You may get a dialog box asking you to install Cabextract. To install cabextract us the following command in terminal.
sudo apt-get install cabextract
Cabextract will be installed.
6. Now go back to step 4 and execute the command there. In the dialog box select mfc42 and comctl32 and click OK to install mfc42. After download completes, you'll be asked to accept the EULA license agreement. Click yes to accept and install it.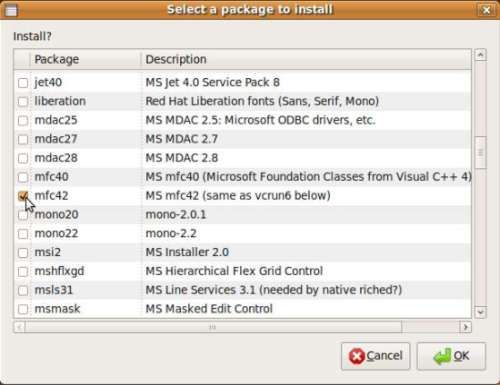 7. Now you've installed mfc42.dll and comctl32.dll. Now find the irfanview installer that you've downloded earlier and double click on it. Wine will take over the installation and install irfanview as you do in Windows.
If you have any trouble following the above tutorial let me know (comment below), so that I try to solve your problem.