Many of us have a low powered graphics card or just have an old computer. The fancy aero effects found in Windows 7 and Windows Vista only work on certain graphic cards supporting pixel shader.
So, such people who do not have aero enabled or dislike it are forced to use the Basic or Classic theme. In the Classic theme at least you are allowed a little bit of customization while in the Basic theme you are stuck with a boring bluish colored interface. So do you want to change this into a jet black colored interface like the one shown below? Then, follow this guide.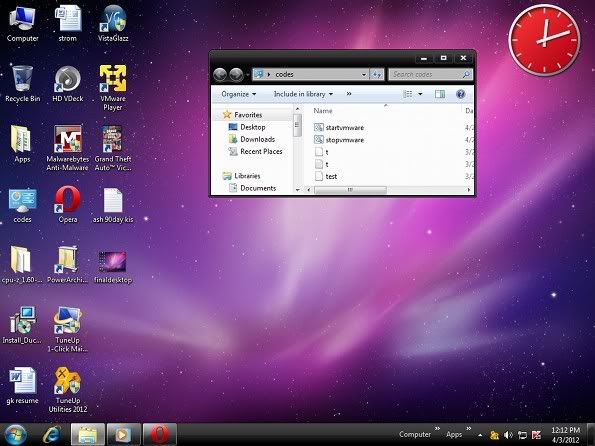 Note : Please create system restore point and backup your files before following this theme.
For Window 7 users:-
Download VistaGlazz from here
http://www.softpedia.com/dyn-postdownload.php?p=71188&t=4&i=1This will be used to patch certain system files to allow third party themes to function.
Install VistaGlazz and open its main screen. Click the first computer shaped icon. Then select patch files. Wait till it finishes and then reboot.
Go to this site
http://cryer.deviantart.com/art/Windows-7-Basic-Black-166606584and click download on the upper right hand side corner.
Extract the Zip file using WinRAR or WinZip or the default extractor in windows.
There is a file called "Take ownership.reg" in the extracted folder. Double click it and select Yes when asked to confirm. This will merge the file with the registry and gives you the option to take ownership or full control over certain system files. This option will now be found whenever you right click a file.
Now go to the aero folder inside the same folder you extracted. There you would find a file called Aero.msstyles. Right click it and select copy.
Now in windows explorer copy and paste this path without the quotation marks "C:\Windows\Resources\Themes\Aero". Now you will find a file called aero.msstyles there. Copy it and save it somewhere safe as a backup. Now right click the aero.msstyles file and select take ownership. A command prompt window would open and close.
After that paste the aero.msstyles found in the extracted folder. When asked select copy and replace.
Now you have to just reboot your system and the theme should start working. That's it.
Thanks to cryer for making such a great theme. All credit for making this theme goes to Cryer.