Windows Command Prompt (CMD,  process cmd.exe) comes to windows 7 from windows NT. Although windows 7 is more mature than Windows NT but apparently Windows Command Prompt didn't evolved in terms of interface as should be and is still the same black window that we are used to see, since some years. CMD is a handy console to launch applications using command. Some people say that the keyboard and the command line can be substantial adjuncts to the mouse and icons.
In order to make Command Prompt more user friendly then there are some alternatives here is a list of freeware and sharewares that can boost CMD prompt to a higher level in terms of easy use and production. We'll be talking about :
PowerShell :

It is basically a little programming environment that's all text based. It has built-in support for .NET framework, so you can create a form on the fly and also display it via a Powershell script. Thus, allows calling of .net objects from within a commandline. You can create much more powerful scripts than any batch file and hence makes windows scripting easier. It is able to execute cmdlets files with '.ps 1' extension and others. It has the ability to automate and control administration of various applications in the computer, as well as Windows itself.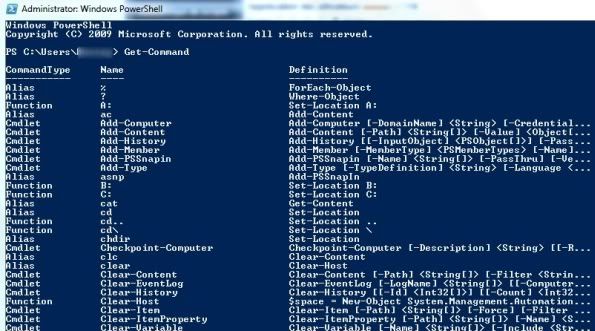 PowerShell will let you navigate the various storage devices connected to the system, "virtual" repositories and in a similar way the registry etc,. Storing of digital signature certificate is possible with PowerShell. An administrator can quickly adjust or update multiple user accounts at once, instead of performing the same task on each individual account. Some unique commands of Powershell are : Get-Command,  Get-Help Get-Command, PSProvider,  Get-PSDrive etc,.
Download : Windows Powershell (Included in Windows Management Framework)
Console2 :
It gives a push to Windows command line interface and thus enhancing the usability and making it more friendly.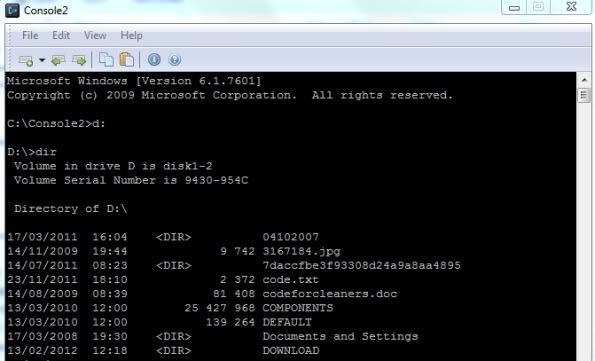 Some features :
Copy and Paste is included in operations
Supports Hotkeys and mouse can be used even inside the command-line
Supports multiple tabs
Adjust the display color from the proposed list
You can apply different transparency levels to each active window
Text editor-like text selection
Text highlighting which helps copy to clipboard
Different background types, alpha and color-key transparency
Configurable font and many others.,
It can also run other programs like Eric Meyer's VDE editor and Necromancer's DOS Navigator or PowerShell. In order to do this go to Settings and point Shell to powershell.exe for instance.
%SystemRoot%\system32\WindowsPowerShell\v1.0\powershell.exe
You can also copy text from outside Console and paste it at the Command Prompt. This will be handy at times.
Download : Console
Cygwin :
It Gives full power of BASH, scripting, aliases, function creation, and all linux feel on Windows. Plus all of the GNU command line utilities. You can STILL use all of the DOS commands in conjunction with linux stuff. And, it'll run inside of Console or Ponderosa.
Standard Cygwin has also included Mintty, that gives a native Windows interface (Unix Command Line) on Cygwin which offers more keyboard shortcuts, styles, colors, support for UTF-8, fonts CJK and IME Windows, Copy / paste text, files, folders etc,.
PowerCmd : (Shareware)
It enhances the traditional DOS command prompt interface with a powerful and easy-to-use alternative. Interface of PowerCmd allows you to run multiple consoles. You can save and restore sessions, change the font and colors, customize the toolbar and so on, highlight key words. With this software you can run multiple consoles within a single window by using tabs to organize them. The main window can also be split into multiple views, to display the tabs side by side etc. Also note that the software integrates with the right click context menu by adding a command "PowerCmd".
PowerCmd interprets commands through Windows Command Prompt and Output is autosaved to prevent the loss of work. PowerCmd comes the Auto-Completion feature which displays all valid files in a scrollable list while typing. It comes with a Quick Launch Toolbar that adds icons to launch some commands to help find ip address, execute batch files etc…
Download : PowerCmd
PromptPal : (Shareware)
Brings a modern type interface to windows CMD and adds more features and also integrates to Windows Explorer. PromptPal includes also its own version of Tail, the popular Unix utility. PromptPal supports all standard editing  functions, you can quickly browse to a file or folder on your computer and insert the corresponding path into your command. Different type of shortcuts can also be assigned. It features pretty simple unique commands, for example, to open web pages you have to type
Start www.google.com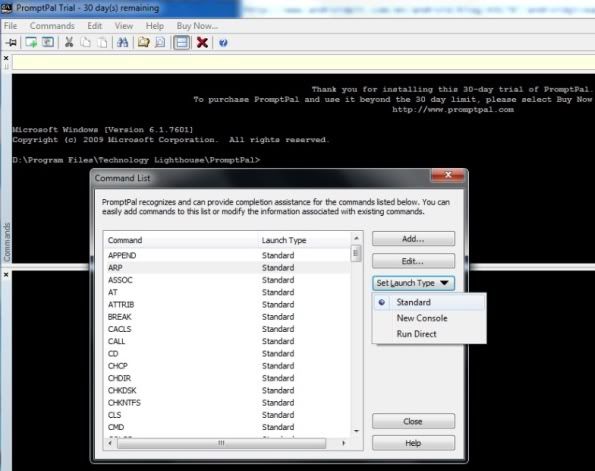 PromptPal comes with a taskbar band, that should be activated in windows taskbar by right clicking on an empty space and navigating to toolbars and submenu. This band acts like a hybrid of the Windows "Run…" box and the command prompt.
Download : PromptPal
Woo Shell:
It is inspired by linux shells such as bash, csh and by the xterm terminal. It allows resizing, scroll-back and copy-paste, support simple command scripts.
Download : Woo Shell
TCC/LE:
It is the successor of 4NT, the Windows command processor. It adds features such as batch command, copy/paste, powerful command line editor, history recall, filename completion (even across a network), popup command, extended directory searches that can take you to any directory on your system by entering only part of its name etc,. It also features its own commands, for example, to view files older than 7 days just type this:
TCC eg "dir / [d-7]"
It is distinguished by the number of its internal controls, syntax, variables, or the ability to create aliases easily. TCC/LE Command processor itself has been extended significantly compared to the normal command processor. It can also work with the default Windows Command Prompt.
Download : TCC/LE
For more power then upgrade to Take Command from the same author.
Greg's DOS Shell:
You can easily copy and paste a command thanks to Ctrl+v. Typed commands that are in different color. GS.EXE remembers previously executed commands during the current session for future sessions (and stores them as a "history" of commands in an .ini file for easier editing), while this is especially useful for 9x systems with their crippled "command.com" program. The configuration file for GS.EXE is GS.INI. This file is created the first time that GS runs. By editing this configuration file you can change Color, Transparency etc,.
Download : Greg's DOS Shell
ColorConsole :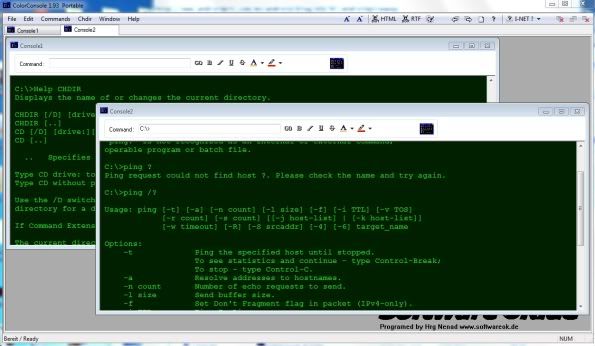 This freeware is from the author of the popular Q-Dir file manager. It has tabbed interface and can coexist with other windows cmd software and it offers much more than the color changes : such as the tabs, copy and paste, shortcuts for commonly used commands, a system of favorites, export html or rtf, etc… Chdir menu allows you to open disk drives locations instantly.
Download : ColorConsole
NirCmd :

This software is from the famous NirSoft, which is popular for small utilities. This tool itself makes use of the default command prompt and it doesn't not need to be installed, so its like portable. It includes dozens of useful commands such as delete or modify the Windows registry keys, stop or restart the computer, run a DOS command, configure Windows services etc. NirCmd was designed for use in conjunction with MS-DOS.
Download : NirCmd
PyCmd:
PyCmd is another free alternative. Features of PyCmd :
Smart Tab-completion (similar to e.g. bash)
Searchable, persistent command history
Enhanced editing (copy/paste, undo, emacs key bindings)
History of recently visited directories
Download : PyCmd
Hope this article will be guide to have at least access to some of the alternatives to Windows Command Line CMD. If you think we missed a good software in the list, the do let us know by dropping a comment with the link.